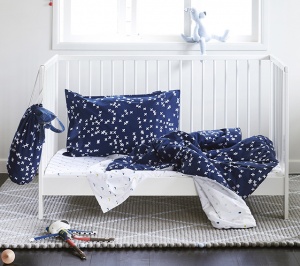 Meet
In Bed With Fred
CHILDREN
Oscar 3
Hugo 12 weeks

Poppy 2

Sophia 1
In Bed With Fred
Meet
In Bed With Fred
For some, styling your little ones space can be exciting and for others, a very daunting concept. Bed linen can be a great way to start building the room theme/concept so I was thrilled to come across In Bed With Fred. In Bed With Fred was an instagram find and like many of these finds, it has been great to watch them grow their following in such a short amount of time.
Alex, Erica and Jacinda had often discussed starting a creative business that allowed them to nurture their growing families so after many conversations In Bed With Fred was Born. Their vision was to create a modern, colourful and illustrative linen collection and with the help of designer Kimmy Hogan they delivered their first range launched six weeks ago.
Whilst the current collection caters only to cot size bed linen there a range of single and king single/double size sheet sets and quilt covers planned for later in the year.
How did In Bed With Fred come to be?
We are three mums who decided to take a leap of faith and bring something fresh and fun to children room. Our vision was for a modern, colourful and illustrative linen collection. That also fitted with the feel of the rest of the house.
We all have young children and found it difficult to find linen that we loved, that was good quality, easy to care for and at a reasonable price.
Tell us a little more about your debut collection
We collaborated with designer Kimmy Hogan to create our first In Bed With Fred range. We had a clear vision of what we were after and Kimmy helped breathe life into our ideas. We were thrilled with the final designs. The range consists of four reversible cot quilts and two  sheets designs. Quality and care were both hugely important to us. The linen is 100% cotton 300TC cotton sateen. It feels beautiful and luxurious and it actually feels softer after each wash. From a care perspective it is incredibly easy – just throw the whole lot in the wash. No undoing covers, or dry cleaning of doonas. This was important to us as we all know how many times we wash sheets and quilts in the first few years.
Who makes up the In Bed With Fred Team?
In Bed With Fred brings together Alex, Erica and Jacinda. Alex and Jacinda have been friends for 6 years and met through mutual friends. Alex and Erica are sisters.
Alex is married with 2 children (and a fur child-  dog Lionel) , Oscar who is almost 3 and Hugo, the new addition at 12 weeks. Alex is passionate about design, home interiors and shoes. Alex looks after Social Media, Online enquiries  and our website. Jacinda is married with a daughter Poppy, who is 2. Jacinda deals with all of our accounts and shipping. Erica is married and a mum to Miss Sophia who is 1. Erica manages wholesale enquires and Marketing.
What are your career backgrounds?
Before having children Alex worked as an architectural rep for a large bathroom company, as well as being part of In Bed With Fred Alex also continues to work for her husbands business.
Erica has a Business degree majoring in Marketing and Management but has spent most of her career in HR. Erica has recently returned from maternity leave to work part time in recruitment. She has always been interested in running her own business.
Jacinda has over 10 years experience as a construction estimator, working on both residential and commercial projects. Prior to having Poppy she was a senior estimator for one of Queensland's largest builders.
What inspires you creatively and personally?
Creatively it is hard to go past online sites like pinterest and Instagram.  Whether it's a particular colour pallet or pattern/design that catches your attention – they not only inspire but educate. Personally we are inspired by other working mothers running their own business' and producing high quality products, whilst balancing the demands of family life.
We have all learnt so much in the last year forming and launching In Bed With Fred.  It is exciting to think this is just the beginning.
What is the best thing about being your own Boss ?
Flexibility. That one word is the key. We are mums first and foremost, In Bed With Fred allows us to experience the best of both worlds. We can be there for our kids but we are still able to fulfil our own goals and career aspirations. There is nothing more rewarding than being able to work on a project every day, which we are truly passionate about and proud of. And coffee, WHO could forget coffee – as many coffee breaks as our hearts desire!
How do you balance (juggle) family time and work time?
It takes a village to raise a child..….and  run a business. We are all lucky enough to have incredibly supportive (and patient) husbands.  We keep telling them we swear we love them more than instagram!  We also have supportive friends and family both near and far who help in any way they can. Being a mum and running your own business are both fulltime jobs. It is certainly a juggling act and some days you definitely drop more balls than others. Like any working parent you need to use and prioritise your time effectively. Day sleeps are a godsend and allow us all to catch up on emails and paperwork, and failing that once the kids are in bed the laptops come out. We also have a "no work on weekend policy "
You have four children between you, how does each day 'work'?
We try to set "work" hours but being an online business things can happen and change in an instant so it can be hard to have a definite day structure. We all communicate several times a day and prioritise things as they happen. We have roles within the company as outlined above but its amazing the things that crop up. We all work around the children's naps, sports, feeds etc. and find we get most of the work done during day sleeps and at night when they are in bed. Wednesdays all the children are in care. Wednesdays we move mountains! This day allows us to have meetings with two free arms. On other days Peppa Pig and Thomas the Tank Engine DVD's are in close reach for those urgent business calls and unscheduled meetings.
What's exciting things are coming up for In Bed With Fred
We are currently awaiting samples of our linen in children's sizes. We are hoping to release single and king single/double size sheet sets and quilt covers later in the year. We have had a wonderful response to the current range although our most popular question to date is definitely "does this come in bigger sizes", we are hoping the response will soon be "yes". Watch this space.
What is the best advice you have been given; professionally, raising a family and how to make it all work?
We have been lucky enough to work closely on this current range with talented designer and new mum herself, Kimmy Hogan. Kimmy has also been a mentor. She has offered ongoing support and invaluable advice, her knowledge of the industry is second to none and her advice has always been spot on. We can't thank her enough.
Raising Family – Listen to everyone's advice then do what works best for you and your family – there is definitely no right and wrong.
How to make it all work -Make time for your family and friends, try to set "work" hours so that you don't miss out on the important things.  Did you say sleep ……who needs sleep?
What are your goals for In Bed with Fred in 2014, 2015 and beyond?
Venturing into bigger sizes is our immediate goal, but we would love to continue to grow our brand and Increase market share. We are also in the very early stages of designing our second range, which is incredibly exciting and slightly daunting all at the same time. We are really excited to be vendors at the One Fine Baby event in Sydney this August, and hoping our stand will be a success.
In Bed With Fred's Petite Edit
Best place Sunday breakfast
Alex – Some genius in our household chose 7:30 am Sunday morning for swimming lessons (I figured we were awake anyway). On the plus side they do a mean croissant and coffee.
Erica – Our local cafe "Fresh", followed by a walk / play in the park or at the beach (depending on season) Its also always nice to wake up to the smell of pancakes cooking in the kitchen…….Sundays are for  family time.
Jacinda – The Jetty Oxford in Bulimba. Amazing food and views! My daughter is obsessed with boats and this café is next to the Ferry Terminal.
Best place for a family get away
Alex and Erica -We are lucky enough have a family holiday house on the water at Port Stephens NSW. It is a fantastic place to get away for a weekend or a couple of weeks. It is stocked with all of the essentials, beds, linen, cots, highchairs etc(so we don't have to pack the car like we are moving house) so we just have to jump in the car. It is a great place to relax, fish, ski and wakeboard. Plenty of quiet beaches, cafes and parks to explore and enjoy. Our kids love it. It's also big enough to invite friends for a weekend stay.
Jacinda – My favourite place for a family getaway would have to be Sydney. It's a short flight from Brisbane and there is so much to see and do. I love to shop, my husband loves the water and Poppy goes wild for Taronga Zoo. We've just spent a week there and it didn't disappoint.
What is your go-to resource?
Alex – my go to especially when it comes to my children is my mum, and friends with children around the same age. Failing that the internet is amazing for both personal and professional insight, its crazy what is at your finger tips these days. To think I used to own a set of encyclopaedias! I fear I am showing my age.
Erica – Like every parents my "go to resources" changes on a daily / weekly basis. My daughter has recently turned one and at the moment my go to resource is "Music" She loves to dance and if she is cranky, bored or upset I know this will bring a smile to her face.
Jacinda – Google, Instagram and Facebook. What would we do without the internet. My go to for Poppy would be my grandparents. Poppy's grandparents live out of town so we spend a lot of time with her great grandparents. I would be lost without them.
Favourite Children's Fashion Range
Alex –Country Road, RYB, Sooki baby, Mini Rodini and its hard to go past Bonds for day to day wear. Whoever invented the onesie with a dual zip – I love you!
Erica – Bonds – I love their bright colours and funky designs. They are practical and fun at the same time. I also find their quality great and they are easy to wash and care for.
Jacinda – Country Road for their simple graphics, soft colours and prints.
Give a shout out to another inspiring business (ran by parents).
Our friends The Beach People – we LOVE a roundie!
Shop the In Bed With Fred collection online or visit one of their wonderful stockists