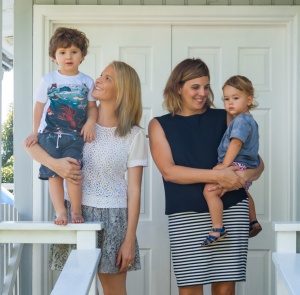 Meet
Lion and the Huntsman
Who
Zoe Ritch
Billie Routledge
Children
Leon 2.5 years -Zoe's son
Jarvis 2.5 months -Zoe's son
Hunter – Almost 2 -Billie's son

Lion and the Huntsman
Meet
Lion and the Huntsman
Sister's Zoe Ritch and Billie Routledge of Lion and the Huntsman are no strangers to the balancing act required to run a creative business. As directors of successful boutique invitation design agency  Zed & Bee it was not long after Zoe and Billie become mothers that Lion and the Huntsman came to be  – a colourful, modern, pre-printed celebration invitation concept for little and big kids alike.
Lion and the Huntsman invitations are printed locally, utilising traditional specialty print processes and are beautifully boxed  ready to customise with your event details. The crisp, two tone colour palette and fresh designs drew me in instantly and I know that they will be my go-to for celebrations and occasions in 2015.
With three children between them this powerhouse proves that with a supportive 'village', drive, a beautiful concept and sisterhood one can achieve their dreams.
Meet Zoe and Billie of Lion and the Huntsman.
How did Lion and the Huntsman come to be?
Zoe: Literally Lion and the Huntsman came to me in a dream. From the company's name to individual designs, I clearly visualised our business' offering. Upon waking I rang business partner Billie to discuss it with her, and from that very morning we began building a dream into a reality.
Our sister company Zed & Bee was already long established and, being new mothers, we understood the want for beautifully produced, uniquely designed children's invitations to match the effort put into styling their milestone celebrations in those early years. Perhaps subconsciously we had been planning the business before this but it was the dream that night that cemented it.
Who makes up Lion and the Huntsman team? Management, number of staff?
Sisters Zoe Ritch and Billie Routledge are the two-person team behind both Lion and the Huntsman and Zed & Bee. We also have a small army of talented suppliers, specialty printers, calligraphers, photographers etc who we've worked with for years growing Zed & Bee. These clever folk share our passion for breaking the mould, our keen eye for detail and have become loyal friends. We couldn't achieve the quality we do without them.
What are your career backgrounds?
Billie: Upon completing a design degree at Sydney's UTS, I began my career with a purist design grounding at Frost*. This led to an Art Directorial position at Yen Magazine , where I produced several books and oversaw exhibitions. I was also an Art Director at Spin Communications working with fashion brands Mimco, Saba , Portmans , Jacqui E  and Goldwell . Keen to join creative forces with my like-minded sister, we launched invitation studio Zed & Bee in 2010 and haven't looked back.
Zoe: Fresh from a design degree at Sydney's COFA, I commenced my career working at a variety of respected design agencies, for clients as varied as Australia's biggest rock bands and festivals, to premium publications for the art community. I further broadened my skill set by becoming a motion graphic designer for Foxtel , producing dynamic graphic content for an array of popular channels. The inspiring team I worked with, talented and great fun in equal measures, kept me there for five years until, missing the tangibility of the printed piece, Billie and I began Zed & Bee.
What inspires you creatively and personally?
Zoe: Waking up in a beach house, overlooking the lake, minutes from the ocean begins an inspiring day, no matter the weather. My upbeat husband and uber affectionate sons, Leon and Jarvis, keep every day fresh. Instagram provides a never-ending stream of inspiring content and a supportive community to both push and encourage us. I wish I had the time to generate more ideas from books, I watch documentaries and movies instead from a variety of genres. I also work listening to epic and emotional movie scores that inspire me to no end and make me cry (so embarrassing). Oh and travel, who isn't inspired by adventure.
Billie: I, like most, trawl Pinterest  for work and collate moodboards of design references, interiors, fashion, packaging, exotic locations, all of which influence the birth of an invitation series. My talkative not quite two-year-old Hunter's innocent accounts of his surroundings provide a humorous break in my busy day. My artist husband Elliott (aka Numskull), his success and all the strings in his bow make me very proud, and his support of my own endeavours keeps me moving onwards and upwards. And ditto to travel!
What has been the best thing about being your own boss both before and after children?
Billie: I like to take both responsibility for my learning experiences and credit for my success. I work really hard so it is nice to be investing in my and Zoe's families' futures rather than somebody else's.
Zoe: Since having kids, Billie and I have temporarily let go of our studio space to work from a generous sun-lit studio attached to my home. Whether we are juggling the kids or having them cared for, there is always the sound of children giggling and their footsteps not too far away. We make our own hours and schedule our workload around full, family filled lives.
How do you balance (juggle) family time and work time? Who is your 'village' (i.e. Grandparent, Friends, Nanny)?
Zoe: We joke about the village that raises our children, as there certainly is one! Leon and Hunter spend regular days with their grandmothers. Billie and I spent several afternoons of every week as children minded by our grandmother with our three cousins. The bond between us all is unbreakable and we want the same for our boys. Leon is also cared for at a wonderful local Family Day Care that Hunter will be joining shortly when Billie moves to the Beaches. Having husbands who work for themselves means our boys are spoilt for choice.
How are your days structured around your children and family?
Billie: Zoe and I were discussing this recently, about how we need to keep our hours between 9 to 5 and take Fridays off to be mothers. As any business owner will tell you, it is impossible to stitch off, to ignore the late night email and not sneak the laptop into bed. We'll let you know how we go.
What is the best piece of advise you have been given professionally, about family and/or making it all work?
Billie: It isn't so much advice we've been given but more what we have come to learn over time. Professionally we like to support our competition and anyone who inspires us in the creative community. We see this as an opportunity to grow as a group.
Billie: In reference to raising a family, our mother worked throughout our youth and has had a successful self-made career. Zoe and I had a really happy upbringing as well as an example that you can do both.
Zoe: How to make it all work? Sometimes it does and sometimes it doesn't. All you can do is have the courage to try, ask for help, delegate and be satisfied with a pretty good job. I am a perfectionist to a fault and am trying to learn to let go. As long as there are happy faces at the end of the day, it worked.
What are your goals for Lion and the Huntsman in 2015 and beyond?
Zoe: To grow beyond our Australian hub and be recognised as producing alternative specialty invitations for family celebrations the world over. Future designs, while child friendly, will be equally appropriate for adult gatherings of the young at heart. Collaborations are always on our mind, as are other paper paraphernalia.
Do your children influence the way you design/create?
Zoe: If only Disney  would let us letterpress a Lightning McQueen series! Absolutely our children's obsessions, the animals they love, colours they're drawn to, inspire an invitation. We are equally interested in appeasing the parents, it is they who have the say in party styling in the early years. We like to produce invitations that could inspire the party's theme or tie in to an existing concept.
Tell us about the creative process, how does it start, who is involved, how long does it take to produce one item?
Billie: Our process for Lion and the Huntsman is and has always been organic. Zoe and I independently and mentally file away ideas that we pitch to each other over a café coffee. Sharing one design aesthetic makes the ideas easier to build upon. When we believe in a concept, and have the funding to support it, the production process itself is smooth and dependable. Our experience designing for Zed & Bee has given us invaluable insight into the world of specialty printing, its possibilities and challenges.
Your range is about celebration, how will you be celebrating Christmas this year with your young families?
Zoe: Billie and I belong to a big, extremely close and loud creative family of food lovers. This is our 'year off', when spouse's families take over and we spend Christmas Day apart. This only means we pick another day to all get together and Christmas becomes a gluttonous series of events. My husband is Jewish, so we celebrate Chanukah as well!
Zoe's and Billie's Petite Edit
Best place for Sunday breakfast? If this is at home, in bed we want to hear how you spend your Sunday mornings.
Zoe: With two kids under three, café breakfasts have been few and far between of late. However, as my husband Simon and I work from home, we like to get out early on Sunday mornings. If weather permits we head to a nearby beach and do coffees, juices and takeaway bits and pieces.
Best place for a family getaway?
Billie: Noosa, beyond Hastings Street. Until recently our parents had a place in Doonan and next year we're renting a house to continue the family tradition. We spend our time evenly between beach, river and hinterland, and have a locals knowledge of where to eat, drink, shop and swim away from the crowds.
What is your go-to resource?    
Billie: Designspiration is an ever-changing moodboard of quality design references, across a variety of mediums, from all over the world. All areas of design not just the party and wedding stationery world inspires both Lion and the Huntsman and Zed & Bee. That said we plan to peruse the National Stationery Show  in New York to visit fellow stationery designers and perhaps even show there.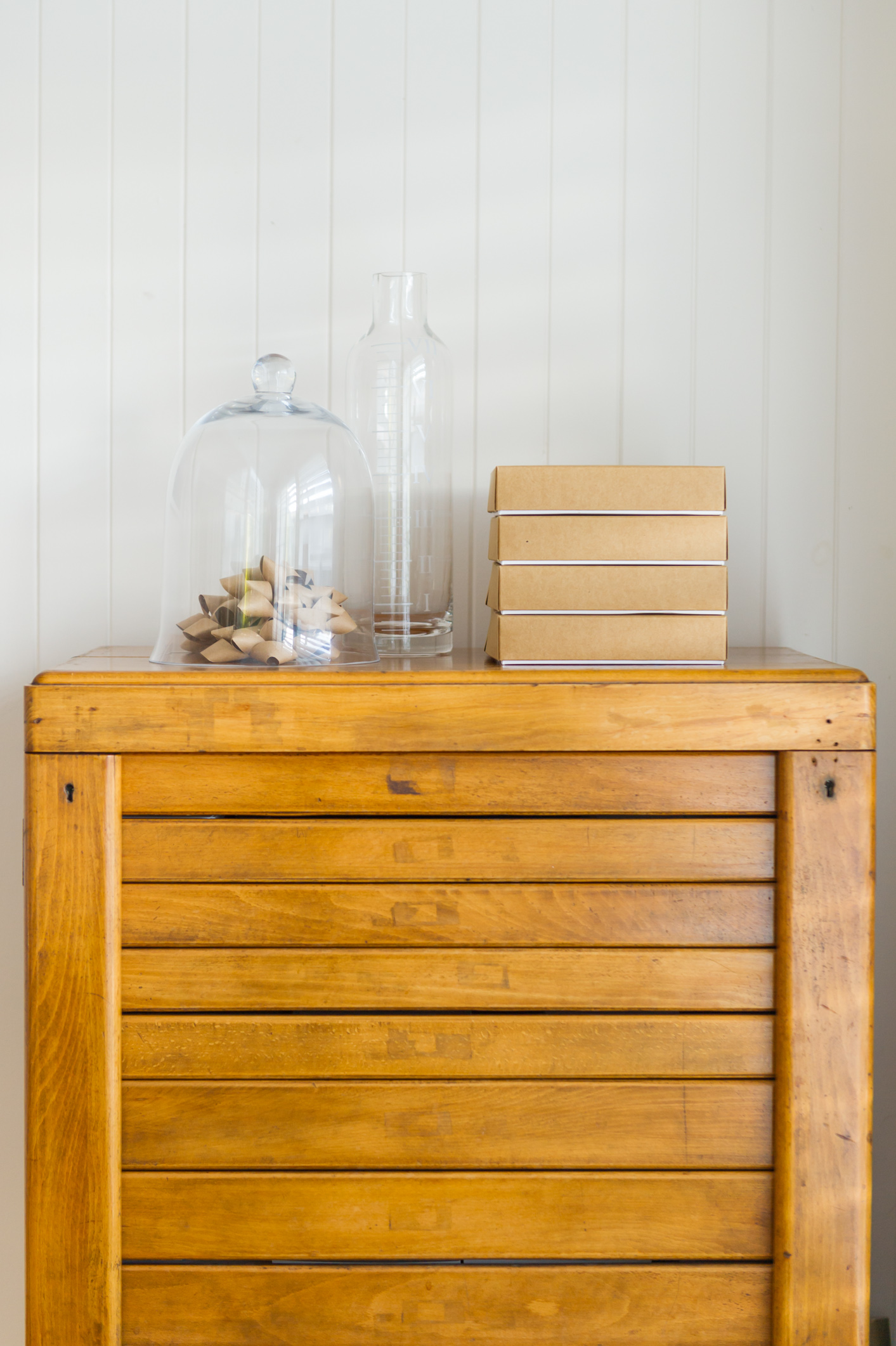 Favourite children's fashion range
Zoe: Australian labels do well-made, edgy beachwear best. Leon can usually be seen in a graphic tee, Munster jewel tone cut-offs and black Saltwater Sandals . I'll occasionally splurge on coats, cardis and leather shoes or trainers found on Fawn Shoppe or Smallable  for winter.
Give a shout out to another inspiring business
Zoe & Billie: We look no further than our own family for inspiration. Cousin Briar Stanley of noted blog Sunday Collector is a talented interior decorator that transforms any space, big or small, using what's already available to her. She is also the mother to Insta sensation, daughter Sunday. Cousin Hannah Logan is the powerhouse business mind behind Logan Wines , all while juggling gorgeous infant daughter Clementine.