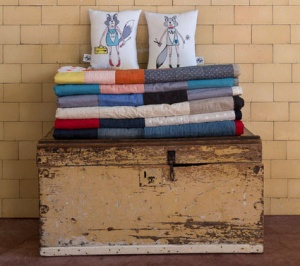 Meet
Skinny Wolf
I feel fortunate to meet wonderful inspiring creatives in my day-to- day 'real job' life. People that more often than not are spinning many plates, wearing multiple hats, are pushing and pulling themselves in various directions and ooze entrepreneurial spirit.
Leila Sanderson, or 'skinny' as she is affectionately known to those around her, is one of those people. Having met Leila via mutual friends/colleagues years ago, I am thrilled to have the opportunity to speak with Leila about her brand and online concept, Skinny Wolf.
Years of multifaceted experience has culminated in a beautifully collection of textiles – quilts, mini teepees,  softies, cushions and rosettes. An artisan handcrafted collection where the pieces will no doubt become family heirlooms. All items are designed and made with care and love by Leila.
Meet, Leila 'Skinny' Sanderson of Skinny Wolf.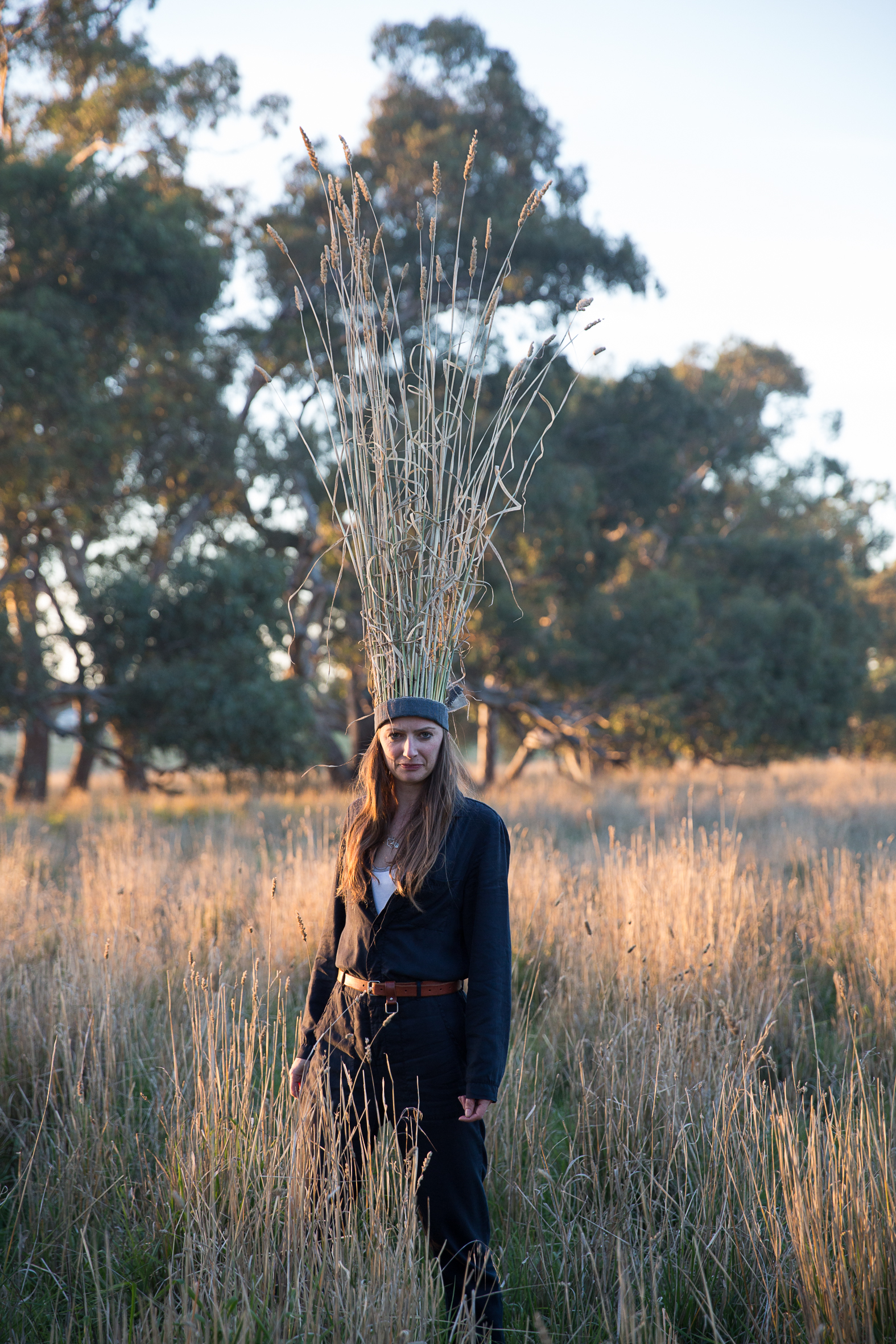 How did Skinny Wolf come to be?
Since I was a little girl I've always wanted to own and run a shop! I used to put on Fete's in my parents back yard. I made potpourri, lavender bags, cakes and had a tombola stand and I invited all the neighbours to come and buy my wares!  I gave the money I made to charity.  I've been making things with fabric my whole life but finally 2 years ago I decided to make my dream become a reality and I started making things I could actually sell!
At the start I was going to do everything myself but then as each stage progressed I realised that other people could do certain things better than me!!  The logo (The Hungry Workshop), photography (Hilary Walker) and website build were all out sourced. As well as making all the products I had to earn money to pay for each stage of the build (which is why it took 2 years!).
The name comes from 2 of my nick-names: Skinny because when I first started working for Greg Hatton his nickname was Twiggy so he called me Skinny this was for obvious reasons! I cant tell you why I'm also sometimes known as the wolf!!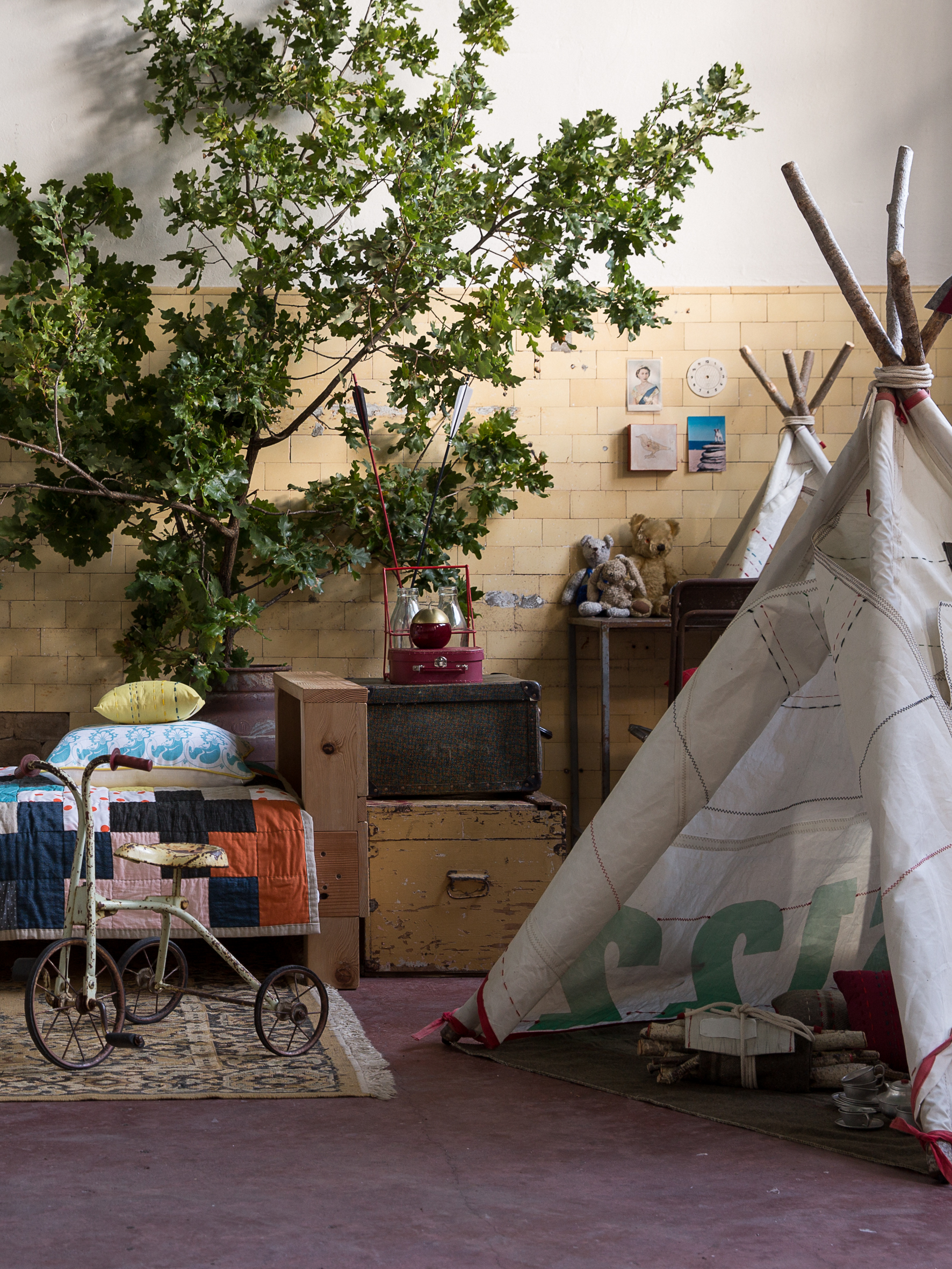 Who makes up Skinny Wolf team? Management, number of staff?
It's just me! (apart from the printed range which is printed and sewn at Frankie and Swiss).
What is your career background?
I worked as a restaurant manger in London straight out of Uni (I studied Fine Art rather than textiles as there were boys in that department!!) and continued to work in hospitality after moving to Melbourne in 1999. I started working for Greg Hatton (Furniture maker and landscaper) in 2009 and Katie Marx (Florist) in 2010. I continue to work for them both as a florist, furniture maker, book-keeper, debt collector, logistics expert,  and childminder! I've also done the interior design and install of Madame truffles (a seasonal black truffle store) for the last 5 years and I also occasionally work for Florist/Event organiser Tori Allen.
What inspires you creatively and personally?
Melbourne and the people who live here are very inspiring.  I'm constantly surprised by how many people make a good living working in creative industries here and they are (on the whole!) all very supportive of each other. The natural world is also one of my biggest influences (mother earth is the ultimate designer!) I'm also surrounded by totally inspiring people – my workmates and partner (who is a self-employed sound engineer) inspire me everyday. I love fashion (which isn't obvious as I'm usually dressed like a major scruff – my job is dirty!!), interior design, films, music, books, magazines and food.
What has been the best thing about being your own boss?
I'm still not really my own boss as I still work for other people which I don't really ever want to give up as I love it! But I guess I haven't worked for 'The Man' for the last 6 years so I'm kinda my own boss and I guess the best thing is not having to be at the same place at the same time every day!
How are your days structure around your other commitments – work balance?
I don't really have any structure to my days (which is ace!). Monday is the day Katie, Greg and I try to negotiate the week ahead, Things have usually changed again by Wednesday!!? Its usually also my admin day. I write a lot of lists and use a notebook and diary, which I never leave the house without! I then usually do at least one of Katie's corporate flower days which is an early start followed by driving round Melbourne making and delivering flowers to restaurants etc. Most weeks I also drive up to the butter factory (were Katie and Greg live) to do some work up there. This can be anything from weddings prep, foraging and floristry, to making furniture, renovating (which has been ongoing for the last 5 years!) or hanging with Hazel and Minnie their 2 little girls. The rest of the time I squeeze in my stuff!
You have just 'officially' launched Skinny Wolf but no doubt there are some exciting things coming up can you share with The Petite Edit? New styles/products etc
To be honest this is really just the start for me so I've not really had time to think about new products just yet – I'd like to sell some of this range first! My rosettes were used recently in a shoot for a Melbourne based fashion designer – they'll be in their look-book for spring! They're also going to be in an interiors book – so those 2 things are pretty exciting! I will need to design and make some new quilts soon as I've sold half my stock already and I'm always excited about making new rosettes!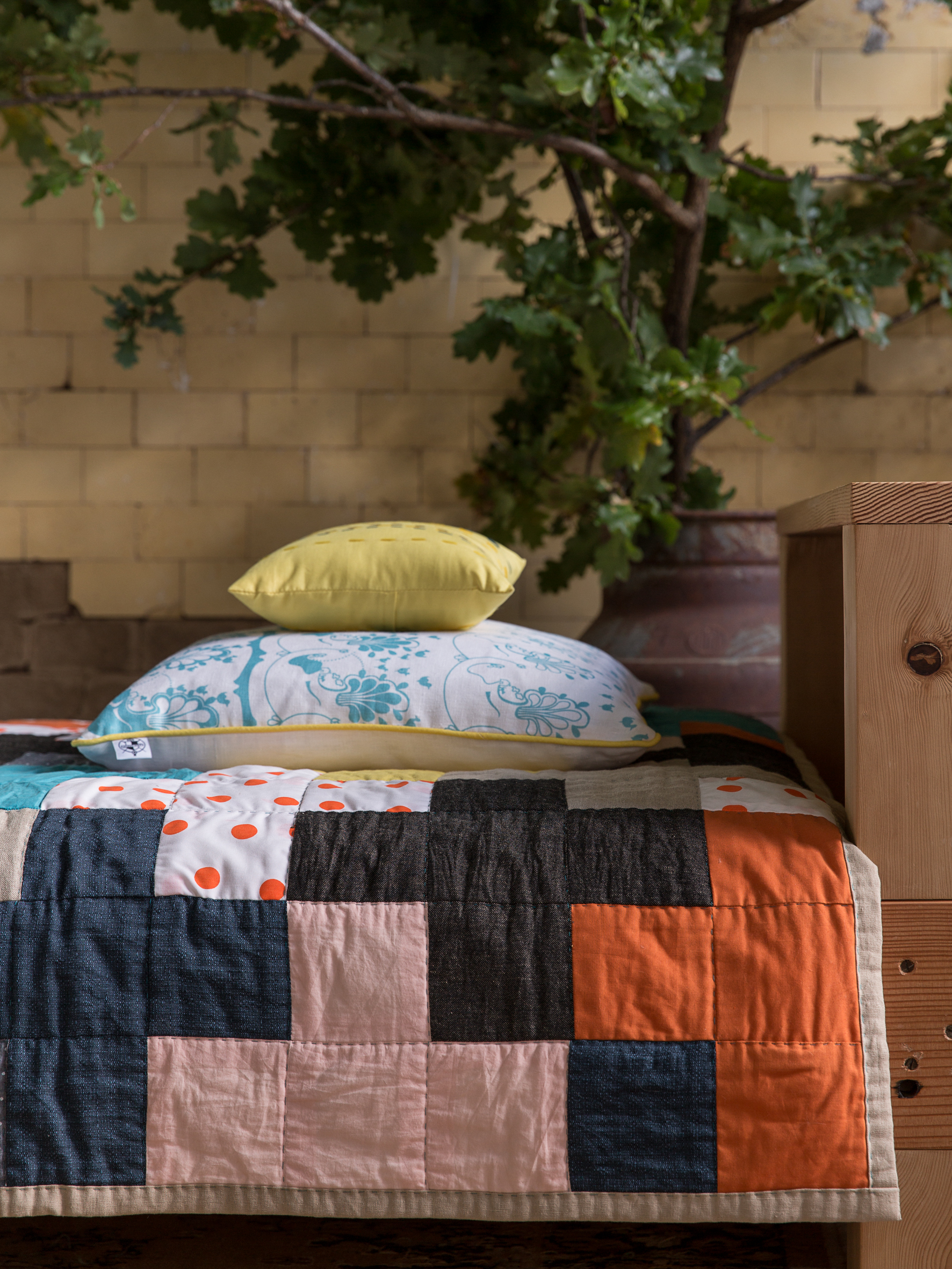 Best piece of advise you have been given
Don't sell wholesale just to get your wares out there unless you're actually going to make any money from it!
What are your goals for Skinny Wolf in 2015 and beyond.
My current goal is to spread the word, so far all my sales have come through Instagram! I'd also love to have an actual bricks and mortar store one day!
Do children influence the way you design/create? You are in the company of Katie and Greg's daughters, have they inspired you in some way?
I don't have any children of my own but I do often feel like a child trapped inside a 40 something year old body!!  I love hanging out with Hazel and Minnie and its definitely a good excuse to act like a big kid! Most of my products I was working on before they were born so they haven't really influenced my designs but they're very good product testers!!
Tell us about the creative process, how does it start, who is involved, how long does it take to produce one item?
Ummm I've never had to think about that before! I think it's different for each product. For example with the range of quilts I started with the cross design and then put together the fabrics and colour palates. Then theres lots of cutting out of squares, which are laid out on the floor. They're then arranged and re-arranged and photographed flat-lay style until I come up with the perfect combination. A quilt takes about 3-4 days to make. The teepees started with working on the construction. I made maquettes using different angles until I got the right shape. I then made a paper pattern which I still use to this day even though its totally knacked! Then there's lots and lots of stitching (my machine is just a domestic and I've totally destroyed it!!) A large teepee also takes 3-4 days to make.
For the printed range I started with drawings and then the graphic designer at Frankie and Swiss finessed them for me. They then print and sew everything and send me the finished product. I think the one thing that ties all my work together is my total obsession and love of colour!!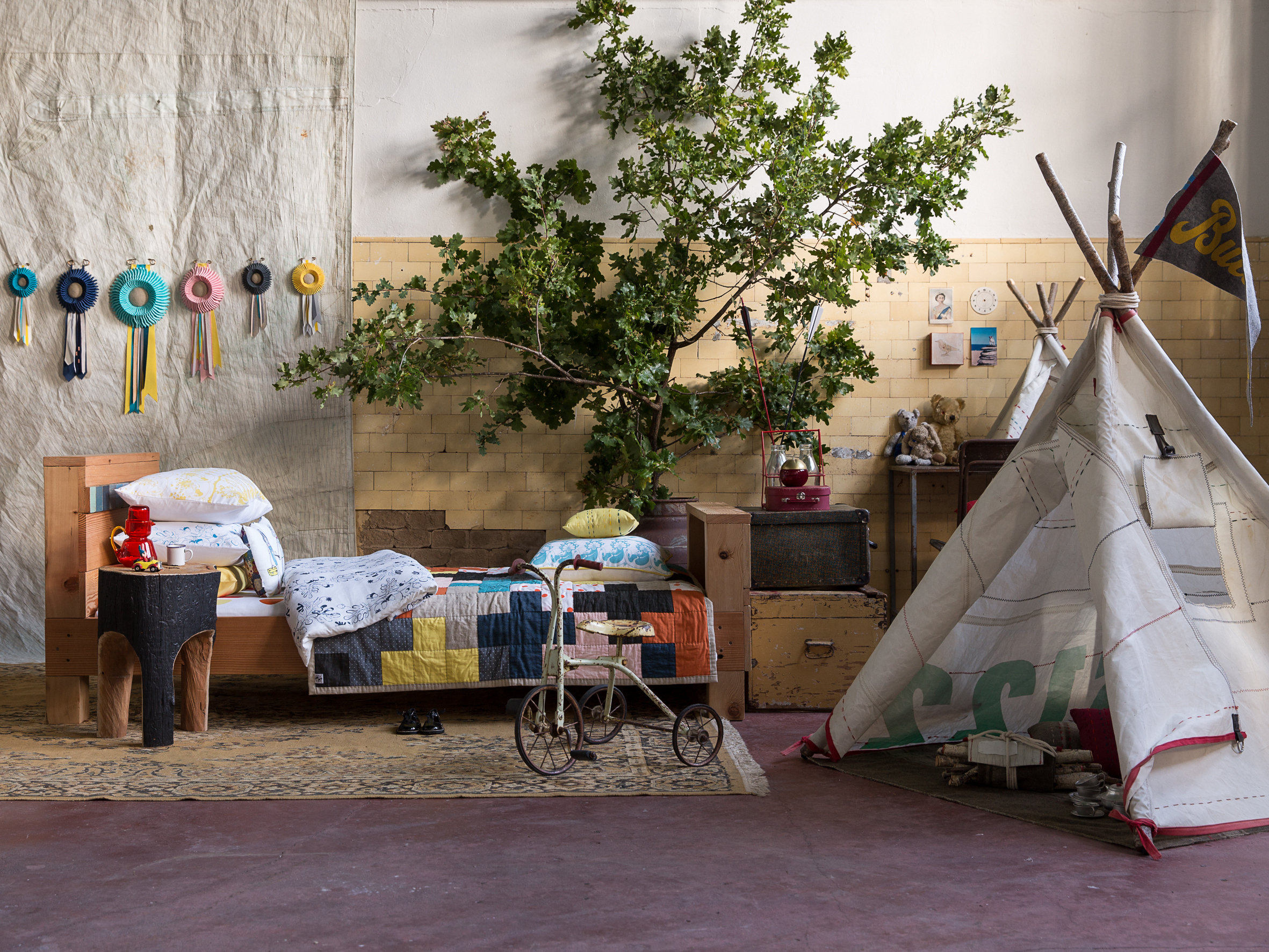 Your range is inspired by flora, fauna, colour friends and fairy tales tell us your favourite of each:
Oh that's hard as it changes with the seasons and I love so many things but here goes!Flower: Roses, Fauna: cats, Colour: blue, Fairy Tale :Red riding hood
What is your go-to resource?
Instagram – without it no one would know my little store existed!
Give a shout out to another inspiring business (ran by parents)
Oh it has to be Katie Marx and Greg Hatton of course!!
Our Petite Edit favourites: Pick & Mix Quilt – gender neutral and not age specific, it might just find it's way to grown up beds.
Visit Skinny Wolf