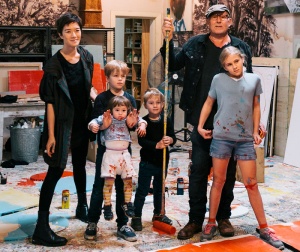 Meet
The Bromley Family
WHO
David & Yuge Bromley
CHILDREN
Wen 18 months
Arlo 5
Willem 7
Holly 10
Bromley & Co
Meet
The Bromley Family
I am really excited today. Well, actually I have been excited for a few weeks as I have been working on pulling this interview together and I am so pleased to finally share it with you. Let me introduce you to The Bromley's.
I have known David and Yuge and their growing family for many years and whilst we have had a professional relationship working across various creative projects, over time we have developed a wonderful friendship.
Anyone that knows David and Yuge will tell you that they have this quality about them, so hard to put into words, so hard to pin-point but let's just say they ooze creativity, passion, a desire to create, connect, collaborate and to share their hearts and world with many.
Their most recent projects include an International design fit out (Singapore's Potato Head) and just two weeks ago they launched their new retail space, Bromley & Co in Windsor oh and its worth mentioning they have 4 children (Holly, Willem and Arlo live overseas with their mother and stepfather visiting regularly).
Together with our photographer Amelia Stanwix  I am thrilled to share our first short film produced by Paris Thomson of Sirap. We take you into the magical world of The Bromley's and share with you our morning in the studio doing what they love, painting.
Tell us a little about the Bromley world – stores, art life, Chapel Street Studio and in particular your recent Windsor project.
Life revolves around family, art, studio, work and a passion for getting up to our neck and beyond in creative projects
Windsor Bromley & Co is our way of portraying our passion on a stage and is very much the link that has allowed us to make our Chapel Street studio and Windsor our nest in Melbourne. We feel so at home in the area and very connected to our shop with David's painting studio upstairs and me working within the store.
Dali always said 'I don't want a gallery I want  a stage' and despite the internet portraying and being such a growing arena to sell art , deign , fashion , antiques etc we feel that nothing beats the tactility of a store where you can immerse yourself in the experience.
Each day runs its unique course, but the common thread is our thirst for exploration and discovery of new ideas, new (and old) things and growing our journey.
Who makes up Bromley & Co team?
Yuge is the head honcho, creative,  fashion, clear voice of reason and I am the excitable creative with too much energy. Shawn is another voice of reason and the project manager, creative Tim Danaher, builder Alex, Tim, Katie is our shop organisational whiz, Datsun, Joseph, Sarah, Sophia in the studio,  paint finishes and framing and Mim (Mimmy poppins ) is mum to us ….. Charlie our bullmastiff.
What inspires you creatively and personally?
David: So many things in the world are a passing parade , my eyes and heart and soul are open and when it hits I try and join in the parade , start the parade and run off with the creative circus.
I am very much a home body. My home is my studio and my studio my home but I lust after books and documentary , so many on art , fashion , interiors , furniture , design , gardening etc.
Tonight I watched " scatter my ashes at Bergdorf " an amazing documentary on the Bergdorf Goodman retail empire and I'm now watching the documentary on Carin Roitfeld  and recently watched the one on Diana Vreeland, the eye has to travel , the one on Eames.
So many wonderful things to inspire. I am a sponge and there's never enough time in the day.
Yuge: Creatively and personally,  I would say David is my constant inspiration.  Creatively, he is like a never-ending well of ideas and I am forever buoyed by his ability to think in both whimsy and reality.  He is never afraid to give something a go and is constantly open to evolving his ideas and beliefs.  More than anything, I am inspired by his absolute lust for life, he is the only person I know who lives and loves like each day is precious and to be cherished.
I am inspired by my daughter Wen, her brothers Willem and Arlo and her sister Holly.   Together they remind me of the simple joys and meaning in life.
My parents have always been my mantle for hard work, not only have they taught me strong work ethics, but also to be grateful for the many opportunities  we are presented with throughout our lives.
My brother Denys, who is 26 years old is the most compassionate, humble, giving person, he inspires me everyday to be a better person.
How do you balance (juggle) family time and work time? Who is your 'village? 
David: Sadly my father and brother have passed and my mum is interstate and not well. Yuge's mum and dad are overseas in New Zealand so at times we have to run after our daughter and when Holly, Willem and Arlo stay doing our work and being with the children is a hilarious juggle. Only today we were in meetings and Wen was on the meeting table sliding all over the place.
We had some collectors over from Jakarta on the weekend and Wen was screaming and I saw the collectors faces grimacing the shriller she screamed.
We do though have the studio full of people and everyone seems to take the children as family as the studio and its inhabitants are like family to us and they know that so the children are a very lively wonderful part of that. Sometimes when we all walk down the street people certainly look a bit confused at who is who and how it all fits.
We also have  a dear friend Essy who is like an adopted grandma.
How are your days structure around your children and family and the many projects you have on the go at any one time.
David: We pretty much put the main parts of the day together with the definite time constraints and meetings , we look at what needs to be achieved and then we wing the rest. We have  a fairly intuitive approach and try to let creativity rule the day. We try to make it fun and adventurous rather than too formal
Yuge: I'm still breastfeeding Wen, so can't quite be away from her for more than 6 hours otherwise my right boob feels like it'll explode (sorry TMI).  So for one or two days a week, Wen is with her adopted grandma Essy and on those days I basically try to squeeze in absolutely everything I can that requires 100% attention.
On every other day, she is with us, whether we go to meetings, are in the shop or working on projects.  She has a knack for doing things, so I've basically put her to task and she loves it…it has come to the stage though where she insists on doing things herself, no help whatsoever.
When we have Holly, Willem and Arlo with us (they live in Vietnam with their mum and stepdad) we basically try to put a bunch of things on hold and spend as much time in child zone as possible. Wen is always in heaven, she actually becomes a bit delirious from overexcitement.
What exciting things are coming up for you both individually and collectively, tell us about any new projects.
As said above we try and make it fairly organic with creativity woven into each day. We try to make each day fun and interesting as opposed to putting the projects as the highlights. That said we have just been asked to do the next potato head folk fit outs around the world , we are doing a café fitout on the lake in Daylesford for a client , a warehouse fitout in Brisbane , opening  a store and big warehouse in Daylesford , a collaboration with a gallerist in new Zealand , working on a big landscaped garden in the country and some interesting collaborations with designers and products
I have an exhibition in san Francisco , Auckland and Queensland coming up and working with the Charles Blackman Trust to curate and hold and exhibition at the Sydney Intercontinental.
Yuge tell us a little about your fashion range
I started my own fashion range Yuge Yu a couple of years ago and have at times loved it, at times hated it and am now at the stage where I have found a great balance between creative output and design and production/management and generally running a business in amongst the other projects I work on with David.
My most recent pieces have seen the collaboration between David and I extend further with a range of jackets and dresses made from silks and linens printed with imagery from David's paintings.  The way these pieces are cut means that their drape transforms the imagery into abstract works that seeks to seamlessly blend fashion and art.
Best piece of advise you have been given
Professionally:
David:  work hard, don't overthink things. That attempting things / giving things a go despite potential failure is still an achievement because you've at least given it  ago. Saying that I rarely take advice.
Yuge: At my first court appearance when I started practicing law in Melbourne, I was waiting outside with a very senior barrister I had briefed. He gestured towards some other female lawyers waiting to enter court and said to me, whatever you do Yuge, don't lose your femininity. There was more to the story, but those words have stuck with me, reminding me that hard work executed with warmth, kindness, compassion, politeness and respect can go a long way.
In reference to raising a family
David: it's actually the Beatles advice, all you need is love. Also if you want your children to have broad shoulders you have to put a bit of weight on them sometimes.
Yuge: My mum and dad have always said…as long as our kids are happy, we are happy.  I'd add as long as hubby and kids are happy, I'm happy.
In reference to how to make it all work
David: You've got to be big enough to accept that certain things aren't working and you've got to either accept that they aren't and look  at alternative ways to do things better or stubbornly work on things harder to make them work when they didn't before.
Yuge:  communication is key. We are big communicators in our family, there have been times David and I will both wake at 3am and rather than try to get back asleep we'll chat into the wee hours, about work, love, happiness it's all relevant to a beautiful life.
What are your goals for the Bromley and Co engine in 2014, 2015 and beyond.
To make everyday interesting and see where that leads.
David & Yuge's Petite Edit
Best place for Sunday breakfast?
Everyday is a work day for us and every day is Sunday to us. Milettos on Chapel street Windsor if we are in town or Frangos if we are in Daylesford
Best place for a family getaway?
We don't have getaways and we don't have holidays, but we do live in Hepburn Springs and every time we get home it feels like a getaway.
What is your go-to resource?    
Magnation, film, computer and great friends.
Favourite children's fashion range?
David: I have a real love for the most wonderful jackets at a really special childrens store wherever you find it.  I love getting clothes for the children. Holly our ten year old went through a tomboy stage and is now feminine again and we are so excited as we can get her cool dresses and scarves and she fits Yuge's shoes.
Yuge: I'm a sucker for Petit Bateau and Bobo Choses but at the rate Wen goes through clothes, she has a staple of bonds basics.
Give a shout out to another inspiring business (ran by parents)
Milettos where we have breakfast and lunch have their children working in their café and its got  a great family feel both of Laura and Pepe's children are overseas at the moment so they have adopted the rest of the staff and us.
Joost and Jen Bakker – eco, foodie innovators, some of our best friends and collaborators, their kids Ruby, Charlie and Remy are divine.
The Tuckeys – ultimate timber merchants and curators of amazing homewares, they have two of the most gorgeous girls Chilli and Indi.
Tori Dixon Whittle and Alistair Way – taking on the challenging task of establishing a business abroad, these two are not only our friends but our family.  They are the ultimate parents to Holly, Willem and Arlo, Sam and Belle, and between the four of us we have 6 kids who all see each other as blood brothers and sisters…the love is immense.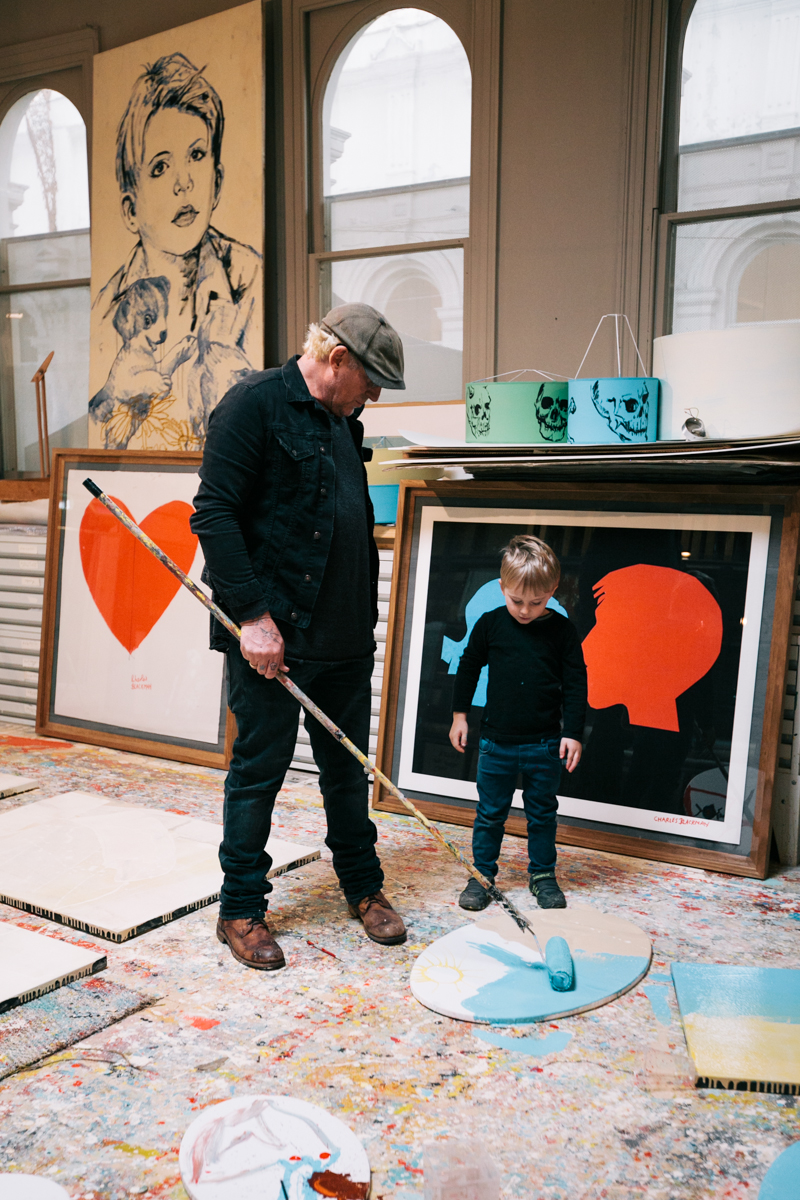 Bromley & Co
93-95 Chapel Street, Windsor
(03) 9510 8990
Mon to Sat 10am–6pm
Sun 11am–6pm