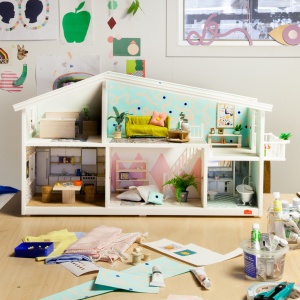 Play
Petite Collaborations Beci Orpin
Supported by
Lundby Australia
Photographer
Amelia Stanwix
Beci Orpin
Play
Petite Collaborations Beci Orpin
We are pleased to present Petite Collaborations, an inaugural creative collaboration series where we will be teaming up with some of Australia's most respected and talented folk on various projects. Our Lundy Dollhouse project kicks off our first project and we are so thrilled to finally unveil it after months of planning.
We invited Beci Orpin (Author and artist), Lucy Feagins (Editor, The Design Files), Jessica Hanson (Stylist), Madeleine Sargent – Made by Mosey(Artist and creative) and the team behind Kip and Co to let their imagination take flight on a Lundby Dollhouse, interpreting the Swedish dollhouse space as if it were their own. The results, 5 spaces that we all want to live in and that reinforce why each of these sought after artists are celebrated within the domestic and International art, design, interiors, craft and creative industries.
To celebrate the inaugural project, The Petite Edit will auction the 5 Petite Collaborations Lundby dollhouses (Auction goes live Thursday 25th February 2016) with 100% of the proceeds raised donated to Victorian charity KOALA Kids who provides the small things that make a difference to the lives of children and adolescents with cancer and their families. Read more about the good work of KOALA kids here
We launch the series by sharing with you the house created by Beci Orpin, author, artist, creative director, designer and mother of two. Be prepared to loose your mind, to gush, to swoon, perhaps squeal (as we did) and to wish you lived in this house. Don't forget to come back each day as we reveal each of the houses.
What was the inspiration behind the house?
I wanted to create a mini version of my dream house, using lots of pattern and colour. I don't think I could actually live in it, but it's fun to look at and play with on a small scale. I gained new obsession with making tiny things too. I think it could be my new hobby.
Did any other creative collaborate/contribute to the house? 
Esther Olsson (who is my helper and a brilliant artist on her own right too) helped me put it all together – she did a genius job of painting the wallpaper in the living room. My friend Kirra Jamison also gave me permission to make a mini version of her ' Ghoul ' screen print (of which I own a life-size version).
My son Ari helped make the balsa wood bed and also made the vase in the bedroom with flowers, and the faux marble pot-plant.
What is your favourite room in your house? 
I think the library at the bottom –  I'm pretty proud of the tiny balsa wood bookshelf I made and also the floor cushions. I could definitely picture a mini-me having a lounging on the tiny floor cushion with some tiny magazines on a Sunday afternoon.
What are you working on in 2016?
So many fun things! I'm working on a new DIY book (although won't be released until 2017), and hopefully another picture book too. Plus various exhibitions, collaborations and freelance work. It's looking like a busy year.
Beci's house, along with all of the other houses will go to Auction on Thursday 25th of February so please do check back in – we would love your support.
Check back in tomorrow as we launch the house of Lucy Feagins, Editor of Australia's most successful design blog The Design Files.
We thank Lundby Australia for helping make this project possible. Since 1947, Lundby has been providing the most contemporary doll's house to each generation. Lundby pioneered the doll's house's child-safe electrical lighting system which can be found in every Lundby house. With two ranges to choose from Lundby continues to keep up with the times. They know the urge to play lies in the minute detail and freedom to create individual worlds. Australian retailers can be found here