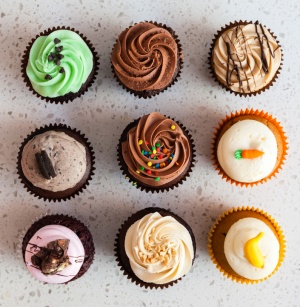 Eat
The Cupcake Queens
WHO
Monique Milkenkovic
CHILDREN
Sophia 3 years old
Oscar 10 months old

The Cupcake Queens
Eat
The Cupcake Queens
When Dannii Minogue, Fifi Box,  Elizabeth Cambage, Chrissie Swan, Jane Hall, Lauren Phillips, Jessinta Campbell, Nadia Coppolino and Erin Maxwell ( just to name a few) are eating your cupcakes I'm thinking you must be pretty pleased with your recipe.
Cupcakes, in my opinion are either hit or miss. Just the right balance of sweetness, a moist spongy base and icing you were wishing you had the bowl for. I can honestly say that The Cupcake Queens are THE BEST I have EVER tasted.
I met Monique Milenkovic of The Cupcake Queens a few years ago and was instantly impressed with her enthusiasm, work ethic and drive. She started the business as an online store with a commercial bakery in Collingwood after trying to find a cake store that baked cupcakes for her own wedding and since such humble beginnings now boasts 6 retail stores with a few more planned to launch later this year.
It's not just a cupcake success story, but one of hard work, persistence, a dedication to quality and impeccable customer service.
I met Monique at the Moonee Ponds store a month ago to speak with her about how she juggles life and running a successful business.
How did The Cupcake Queens come to be?
I have always had a passion for baking and cooking at home. This was a release from the stress and tensions of the corporate working week.  Whilst searching for high quality small individual desserts for my wedding in 2005, this lead me to the realisation that there was a gap in the market to cater for events. During my honeymoon that followed I was swept by the cupcake craze in New York. After I got home I focused my baking efforts on cupcakes. Following positive feedback from my friends and family and encouragement from my husband I gave some farmer's markets a go. This gave me the ability to interact with customers and put all my product development to the real test. From there I decided to launch a website and initial start as a bake to order business. Following a change in personal circumstance in 2009, we decided it was now or never to take the business to the next level. We opened our first store (which at the time was the first cupcake store outside the CBD) in Williamstown in May 2010.
Who makes up the Cupcake Queen team? Management, number of staff? Stores?
Jac (my husband) and I act predominantly as the management team of the business. We have 25 staff currently in both full time, part time and casual employment across the support, production, supply chain and retail areas of the business.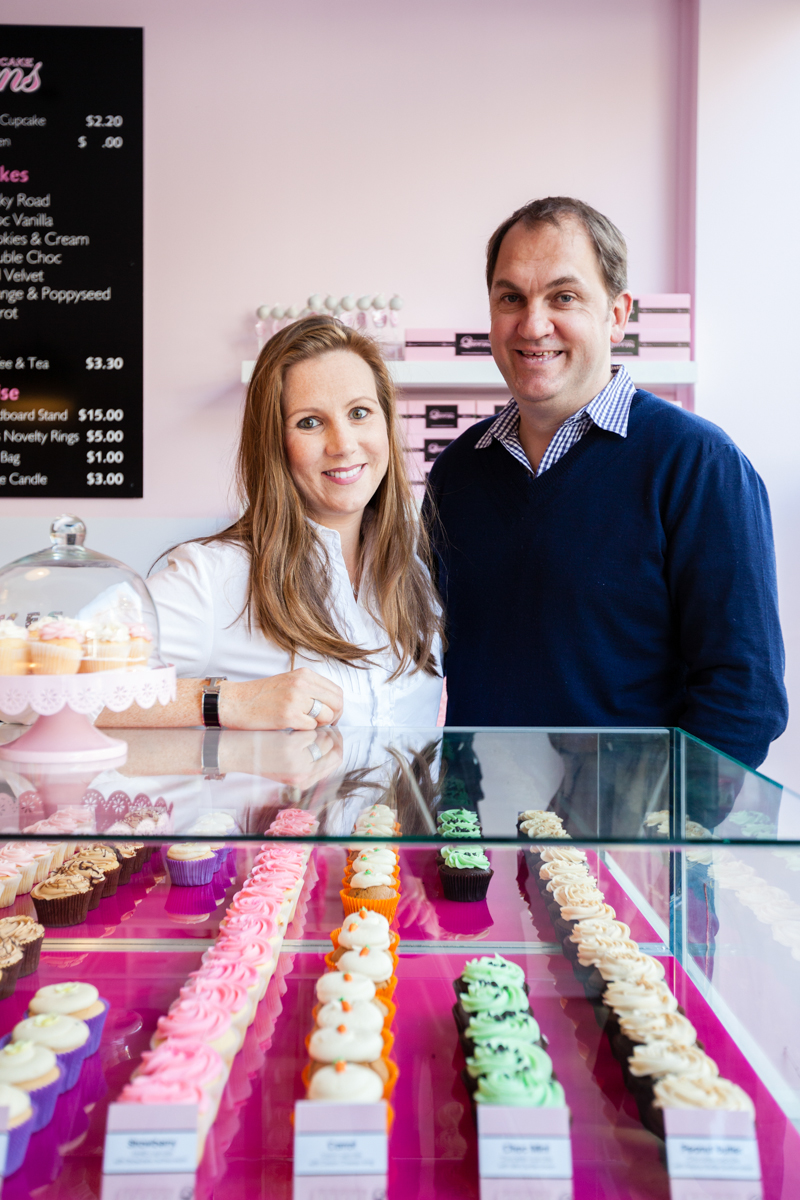 What is your career background?
My professional background is in Human Resource Management and Business Administration. Jac's background started in public practice Accounting before spending over a decade in retail in finance, operational and business management roles.
What inspires you creatively and personally?
For me it is about the idea and the passion to be creative and conceive new things.  Jac is the driver of the detail, ensuring we have the processes and strategy right to execute on our value proposition. My passion is about ensuring that our customers have a memorable experience whether that is in store, being gifted our cupcakes or being at an event where they get to try our product for the first time.
What has been the best thing about being your own boss both before and after children?
Having your own business that you are passionate about removes the whole phenomenon of Monday-itis! It simply doesn't exist anymore! Having the freedom of flexible work hours and the tangible rewards that you can touch, taste and feel of our business still makes me smile every day. Now with the children taking more time than the actual business, I love the randomness and innocence of watching them grow and everyday they amaze me. Being part of your own commercial enterprise gives me the opportunity to be part of this and for me this is priceless.
How do you balance (juggle) family time and work time?
I have a fantastic support system that allows me to be a mother and the face of The Cupcake Queens. You steal moments, everyday for both work and family. There is no such thing as structured weekends and days off any more. I have the liberty of not working on a Tuesday or a Thursday and do not need to wait until a Saturday or Sunday any more.
You have two children and are soon going to welcome a new baby, how does each day work? Who is your support network?
My support network consists of a part-time nanny and family members that generously lend their time to help. We also have our daughter in care for two days a week. The nanny is for the structured business work, when I need to be in stores or meeting staff, customers or suppliers and the family is for more of the informal stuff and being Mum – running a household, supermarket, taking my daughter to swimming lessons etc.
What exciting things are coming up for The Cupcake Queens ie store launches, new flavours?
We have a busy and exciting second half of the year planned. Two more store openings, new products for the shelves. This year will consolidate us as the largest Cupcake business in the country with eight stores, amazing!  Definitely a pinch yourself moment!
You've been running kids cupcake decorating classes, tell us more about these, when do they run when are the next scheduled?
We run our kids decorating classes each school holidays. It gives us an opportunity to spend some time with our customers and their children in passing on some of the skills to make your own cupcakes. The children leave with four cupcakes and some passion for the product as well as the confidence to try and decorate some at home with the skills they have learnt.  They have become a popular fixture on the calendar for the kids and parents alike (with many children repeating the classes again as they love them so much!)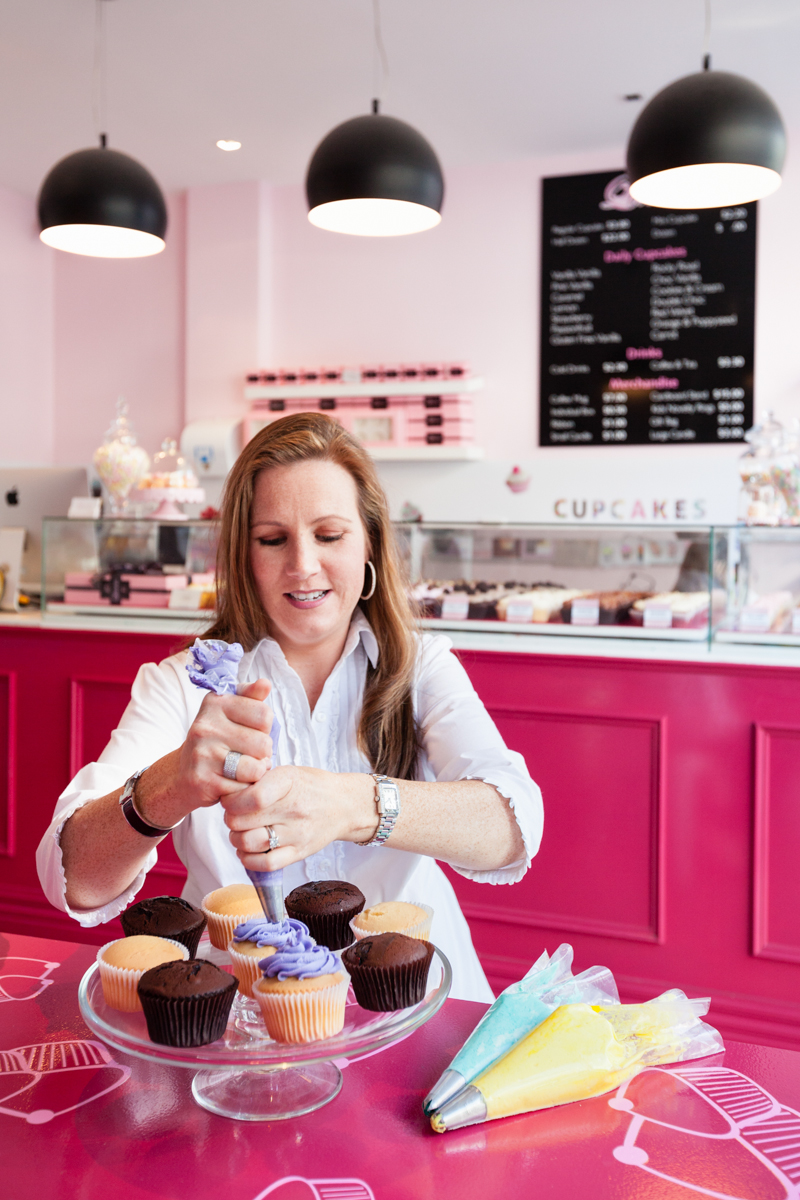 Best piece of advise you have been given.
Professionally – never try and do more than two things at once. Once you introduce a third then one will start to suffer.
Family – take responsibility for your children's behaviour and do not blame others.
How to make it all work – it all about 80% application and 20% talent.
Organisation – I am also super organised, I write everything down and use my diary religiously!  I stay on top of my inbox and delegate as much as I can.
 How do your stores cater for parents and children?
We try to cater for children as much as possible in our stores, being parents ourselves we understand how important it is to keep the little people happy.  Each store has crayons and colouring sheets (of cupcakes of course!) to keep them entertained while the parents can enjoy their cupcake and coffee in peace.  We also have high chairs, toilets and change tables in most of our stores.  We also offer babycinos and kid size milkshakes.
Parents can be concerned with children eating sugar and as natural as possible , tell us about your ingredients and your perspective on this issue?
We view our cupcakes as an occasional treat, not an everyday indulgence and see our cupcakes as part of birthdays, christenings and important family events.  The great thing about cupcakes is that they are portion controlled so you know how much your child is eating.  We also have mini cupcakes which are a great size for little ones.
How long does it take to perfect a cupcake flavour, what is the process? Who is the taste tester?
It takes longer than everyone thinks as we like to make sure our cupcakes are perfect before they hit our shelves!  We have a team of pastry chefs as well as our Cupcake Queens staff who all provide input into new flavours and designs.  We also listen to the requests from our customers as well as incorporate current trends into our menu.  With 20 flavours on our menu in store every day, it is sometimes difficult to find room for a new flavour without letting one go…that is the when the tough decision making comes in!  We currently offer the largest range of cupcake flavours on a daily basis anywhere in Australia!
Any tips for home bakers  on how to achieve the best cupcake?
As cliché as it sounds, make sure you use the freshest ingredients possible.  Use your ingredients when they are at room temperature and follow instructions as much as possible but don't be afraid to experiment once you have the hang of a recipe.  Seek honest feedback from family and friends and practice practice practice!!
Monique's Petite Edit
Best place for Sunday breakfast
Sunday breakfast with two little people…the best place is home!  As our weeks are so busy with running around we love nothing better than to stay at home on a Sunday for breakfast, that is a treat for us.
Best place for a family getaway?
We have just returned from LA where we treated our kids to a trip to Disneyland which was great but we love nothing better than a quick getaway to Queensland with the kids for the great weather and beaches…and did I mention the short flight with kids?!
What is your go-to resource?
My can't live without go to resource is my iphone, which allows me to stay in touch with what's happening in the business, keep up to date on social media and also has the odd children's app on there as well!
Favourite childrens fashion range
We LOVE Pediped shoes for our kids and can't live without them, they are stylish as well as comfortable.
Give a shout out to another inspiring business (ran by parents)
We love Mali Me as our go to for gifts for new babies, we can't go past their signature timber boxes which are adorable!
Visit The Cupcake Queens online store