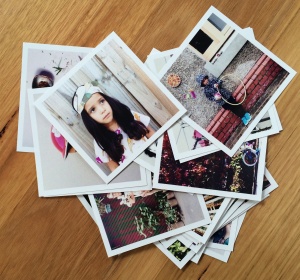 Create
Picture Postie
WHO
Jennifer Roberts
CHILDREN
Mimi 3.5 years old
Ita 1 year old
Picture Postie
Create
Picture Postie
I am yet to meet Jennifer Roberts of Picture Postie face to face but I can say that our conversations to date have left me inspired and impressed with her drive and growing business as a mother to two young girls.
In just over 2 years Jennifer has built an incredible platform and APP to finally help us all print and keep the photos we capture daily on our phones. If you are anything like me, I have thousands of photos that just don't get printed…..not anymore!
The Picture Postie offering includes photo prints, wall decals, photo blocks, timber frames and much more. Think of Picture Postie as a way to hold onto those precious moments and just think, gifts for the Grandparents are sorted!
How did Picture Postie come to be?
April 2012 – I was out on a run and started thinking about how I could print photos from my iPhone. As there was no simple answer, it occurred to me that a photo printing App would be extremely convenient. Particularly for busy Mums, without the time or patience to head to a lab and fuss about with USB sticks to print photos (with kids hanging at their ankles). An easy to use App would make this task enjoyable and something that could be done from the comfort of anywhere!
What is your career background?
Corporate background in Marketing. My first career job was as a Marketing Assistant at Sussan, progressed to Marketing Manager and Director roles in large organisations spanning fashion to telco. Also had a few stints in Advertising Agencies. Immediately prior to starting Picture Postie, I had launched and sold a small business and worked on a property development project.
Who makes up Picture Postie team? Management, number of staff?
We have grown to a core team of 5, with roles spanning across Development, Social Media, Customer Experience, Product Development and Fulfilment. The great thing about being a start up is that we are agile and band together to deliver great outcomes quickly.
What inspires you creatively and personally?
Personally: I have loved building something that leaves a positive impression on others. I've always had a bit of an entrepreneurial interest in building new businesses and it has been wonderful to create something that fulfils a need.
Creatively: Calming interiors. As a mum of two small children, anything tidy makes me feel good!  I love spaces that are welcoming, warm and unique.
What has been the best thing about being your own boss both before and after children?
I have given myself a challenge. This is my marathon – and every day is a training exercise. I can more easily self moderate as the highs and lows of taking the risk to start your own business can be testing. Now that I'm a Mum, this has helped me put things into perspective, particularly when a reality check is needed! Of course there are the practical benefits of flexibility and working hours that fit around a busy family schedule.
How do you balance (juggle) family time and work time?
I've found a good balance that suits Mimi, Ita, my husband Stuart and I. The right mix of socialising at childcare and kinder, time with extended family and time as a family. We're in a routine and it's working for us.
How are your days structure around your children and family? Who is your support network?
My Mother-in-law is amazing and spends 2 days a week with Mimi and Ita. We have a great local Childcare and Kinder centre and most activities are close by. There are no early mornings or late nights. It's mayhem during these times so I don't want to miss them! I tend to do a large amount of work after 7 when the team is tucked away in bed.
What exciting things are coming up for Picture Postie, tell us about any new styles/products etc
Android – is coming any day now.  We can't wait to make Picture Postie available to everyone!
Photo books! They have just the right mix of automation and personalisation to create photo books that look great. They will have a distinguished matt cover and beautiful pages that really push out the colours.
Best piece of advise you have been given
Professionally Anything is possible, stay focussed and nothing happens overnight
in reference to raising a family Starting with a routine from day 1. It worked so well for us and helped me manage as a parent
in reference to how to make it all work For us, having a routine has been crucial.  Of course, things can and will go wrong but we just get back into the swing of it as soon as we canJ.
What are your goals for Picture Postie in 2014, 2015 and beyond.
More platforms, more products and more destinations. Watch this space.
Do your children influence the way you design/create?
Absolutely!   At Picture Postie, we aim to create things that savetime/make life easier.
Jennifer's Petite Edit
Best place for Sunday breakfast?
The Pantry in Brighton. Child friendly – great for colouring and penning ideas on butchers paper. Our routine is to walk there in full exercise kit minus any sweat! Mimi scoots and Ita is in the pram.
Best place for a family getaway?
Noosa – great mix of dining, shopping, accommodation, activites
Coollangatta – love the thought of being 5 minutes from your accommodation once you land. Love the choice of the surf beach and calming Tweed Heads inlet with the water sports equipment for hire on the beach.
Favourite childrens fashion range:
Country Road kids wear. Clothes that look great and importantly, go the distance.
Give a shout out to another inspiring business (ran by parents)
Glamour pads – Bringing glamour to breast feeding. Australian designed and owned.
Download the Picture Post APP.