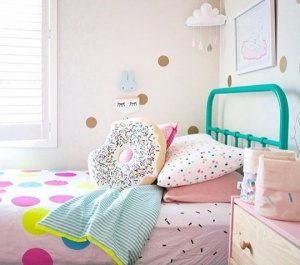 Shop
Bramwell Designs
WHO
Emma Rodney
CHILDREN
Harry 5 years
Billy 3 years
Bramwell Designs
Shop
Bramwell Designs
This interview has been some time in the making. We have been keeping our eyes on local Australian bed linen brand Bramwell Designs for some time and we are thrilled to finally share the fun and bright collection on The Petite Edit. Drawn to the playful designs which are hand printed onto a soft 100% certified organic white Cotton, using eco friendly non toxic paints, the Bramwell Designs collections are set to bring happy smiles to the faces of little people and make sleep time a magical place.
Emma Rodney produces the collection in her Sunshine Coast studio and as a busy mother of two, embodies the spirit of a creative parent we were keen to speak with.
Let us introduce you to Bramwell Designs.
How did Bramwell Designs come to be?
I decided to pursue my creative ambition, to design a fun colourful range of bed linen suitable for kids and adults alike, that was Made In Australia and created with loads of love and attention to detail.
Who makes up the Bramwell Designs team? 
Myself predominately as the Lead Designer – I work in the studio on the design process, marketing, social media and off course the hands on stuff, one piece at a time.  As we have grown considerably I am fortunate to have a small team around me that assists with the sewing (manufacturing), photography and a Design Assistant to help with the daily doings in the studio.
What is your career background?
My background is quiet diverse… life has always been an adventure and I love a challenge. I have Double Degree in Commerce/Health and I feel my adventure abroad working in London for WGSN certainly inspired me to pursue my creative interests and follow my heart.
What inspires you creatively and personally?
Being somewhat of a free spirit, I like to express my creativity with no boundaries, hence why my range is ever changing and each individual piece is often unique for the client. My love of the outdoors and natural beauty is an inspiration. I am fortunate to have a light filled studio close to the seaside and surrounded by nature and sunshine. This certainly helps get the creative juices flowing. And off course my two playful happy boys find fun and enjoyment out of the simple things, love making things and being mindful. Hence why the love of colour, shape and simple lines is reflected through the bedding range.
What has been the best thing about being your own boss?
I can turn my creative thoughts and ideas into something real and special for others to enjoy. Flexibility is also brilliant, with a young family! I certainly have had to learn a high level of organisational skills to make this dream a reality.
How are your days structure around your children and family?
I have two beautiful boys who are my everything. I love being a mother and enjoying watching them grow and learn. I have certain days and times I work in the studio and give my bedding range my full attention and love it deserves – but in the other times I enjoy playing and just being there with the family. I certainly has been a challenge to do both, but takes some effort to make it work and get the work: play life balance.
Is there a common inspiration thread with each range?
My sheets need to reflect the sheer joy and excitement a child feels doing something they love and enjoy – like playing at the beach, throwing the ball to the dog, being with family, or a trip to the zoo. My bright and bold bedding, thus allows the bedroom to be a special happy place too for playing learning and eventually sleeping. Bringing the colours and fun times indoors I guess you could say.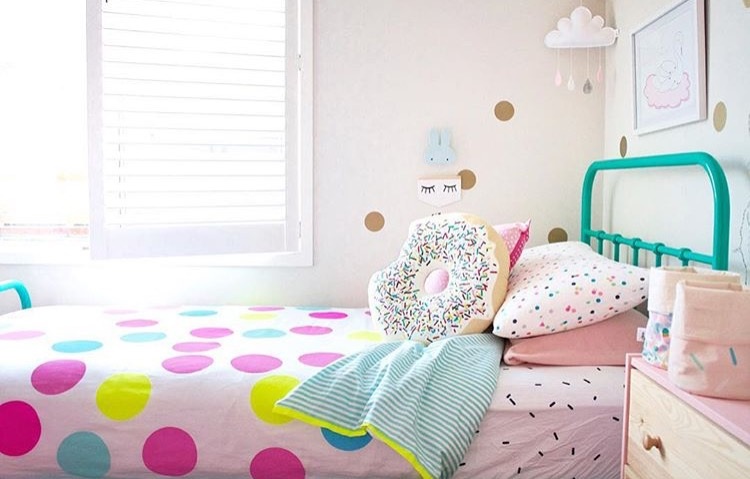 How do you balance (juggle) family time and work time? Who is your 'village'?
I juggle it all myself but do find, its important to be very organised and if I lose the life/work balance, I mix things up a little to get that balance back. I have a fantastic baby sitter, who is always on hand to watch the boys and assist when required and off course my husband, who loves to help out where possible too and take the boys out fishing or to the farm.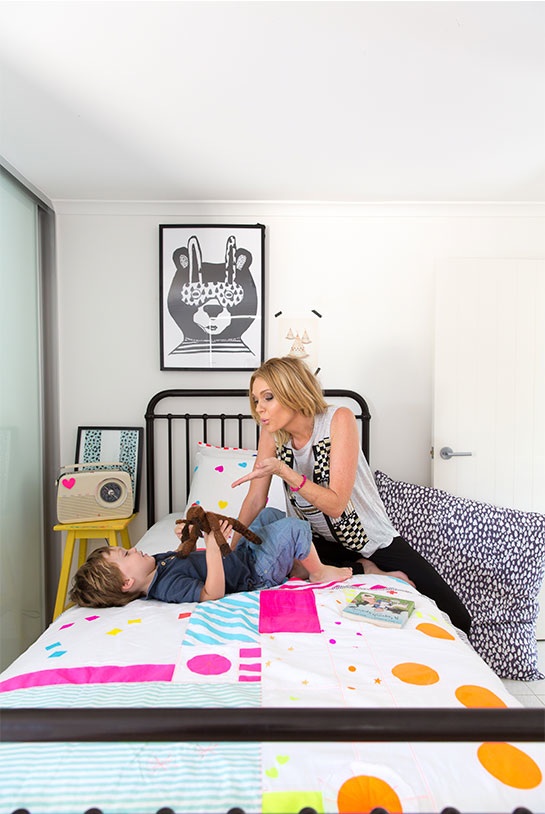 Tell us about the current collection?
I don't specifically have set collections as I frequently release new designs / patterns in various colour ways. I do this, as I feel my clients desire bed linen that is fresh, unique and bespoke. However, we do offer a range via our online store that clients can purchase at any time. And it's as simple as emailing me, if they wish to change colours or add something to give them the desired look they are after. Designing bed linen is very hands on, handmade and hand printed. It allows me to create new and individual pieces for clients with a twist on colour, size of bedding or design. Variety is the spice of life isn't it.
What are your favourite pieces?
I do love Confetti and Electric Hearts Range, Vintage Floral pieces and our Wonderland Range which is a mix of our colours and patterns hand stitched onto the bedding (i.e. Doona Cover/Cushion) or if you aren't after the hand stitched look, we offer an amazing hand printed multi design doona cover – which is a little bit funky and shouts HOORAY! It will soon be available online but has had amazing feedback, as it gives the client a mix and match item of bedding, that combines lots of designs and colours.
Any tips on transitioning a toddler from a cot to a bed?
Bright colour sheets off course!! Mix and Match bedding and cushions will change the appearance of a bedroom, creating a welcoming fresh feel and make bedtime a enjoyable place to be.
What are your goals for Bramwell Designs  in 2016 and beyond?
Grow our range to be the best it can be by introducing new collections regularly, keeping it fresh and magical! Expand our custom design package to clients which not only allows them to create / design own bedding but receive e-styling advice on planning a bedroom/playroom to its potential. Plus the Launch of our Sleepwear range and working on some exiting collaborations I have in the pipeline – one of those being with the super talented Jane Reiseger. We will combine our talents to bring together a beautiful collection that will certainly be popular for little people and parents too.
Emma's Petite Edit
Best place for Sunday breakfast?
Gathering the family up and heading down to the local coffee shop for a strong hot coffee and freshly baked muffin – followed by a swim in the sea to refresh the senses and clear my mind for the new week ahead. Family and caffeine = bliss.
Best place for a family getaway?
Byron Bay is a family favourite. Recently we stayed in the most gorgeous restored farmhouse in the hills of Byron Bay, cooked our dinners in the camp oven and roasted our marshmallows in the fire under a blanket of stars. That is my euphoria.
What is your go-to resource?
Instagram is fabulous – children's illustrations and story books!
Favourite children's fashion range?
Have always loved Country Road. The clothing is of good quality and great designs for boys, practical classic style clothing that is on trend.
Give a shout out to another inspiring business
NOD HQ  is a fun brand creating hand painted timber head boards!
View the Bramwell Designs collection here.