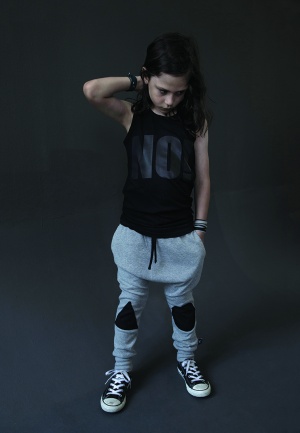 Shop
NUNUNU
WHO
Iris Adler and Tali Milchberg
CHILDREN
Tali
Max 8 years
Uma 5 years

Iris
Omer 11 years
Rommi 8.5 years


Nununu World
Shop
NUNUNU
NUNUNU's DNA is based on minimalist, clean designs. With a geometric, architectural and almost industrial design aesthetic, expect simple and clean designs for boys and girls from newborn to 14 years.
NUNUNU is the first International brand to be featured on The Petite Edit and we are so thrilled to share a little of the NUNUNU journey as told by the creative duo behind the brand, Iris Adler and Tali Milchberg.
The latest collection, launching globally tonight displays Iris and Tali's continued exploration of muted hues whilst celebrating the labels signature styles of Baggy Pants, Leggings and Tees which are complemented with innovative silhouettes and fresh fabrications.  Expect stars, skulls, geometric patch appliques and diagonal contrast prints – say no more!
How did NUNUNU come to be?
We met 8 years ago through a mutual friend, but we didn't really know what we wanted to do. We knew we wanted to shift career focuses to something within the children's fashion space. For about a year we talked, collaborated and went through a discovery process to understand that we ultimately wanted to create clothing that we could not find in the marketplace for our own children. Once that was established we started immersing ourselves in every aspect of building a company- with no experience we had to learn everything from production to choosing materials to presenting the collections at trade shows. Absolutely Everything.
Who makes up the NUNUNU team? 
We are a group of 12 women (yes!) and one brave gentleman! We are proud of the fact that we still function like a small, tight family. Sometimes a dysfunctional family – but we all have each others backs and although we all have titles and proper job descriptions, at the end of the day – we all do everything that needs to be done to get a good job done!
What inspires you creatively and personally?
Our kids, architecture, any form of design, New York, and we know that this sounds like a cliche but anything really. We can be driving in the car and notice how bright the red brake lights of the car in front of ours are and this will lead to a color in the collection like last years "flame" or one of us can help one of the kids out with homework in geometry and this can lead to this season's print.
How are your days structured around your children, family and running a business?
Just like every other busy family's day. We hustle and we juggle and try to catch our breath while doing so. Lucky for us, both of our partners are very evolved dads, and help out and share the load with us in the most supportive way possible (and they both lead extremely busy careers as well).
How do you balance (juggle) family time and work time? 
We are of course mothers, and being business owners – we are consistently trying to juggle it all. But this doesn't make us any different from the moms around us. Everyone is in the same race – trying to fulfil themselves both personally and professionally while being the best moms that they/we can be.
Tell us about NUNUNU HQ
It took us some time to get to the point of having a HQ like we imagined and we are so proud and happy that we are here now… The loft, which is situated in a building that once housed a telephone company, is open and cleanly appointed. Its main purpose is to allow everyone to find their own patch of turf. Of course we all have desks etc… but we think that the genius of the place is the fact that you can walk in at any hour and you will find someone lying on the couch working on their computer or someone else outside in our small garden on the phone and another sitting at the kitchen counter doing her own thing… of course at any time one of our kids (ours = everyone's children, not just Tali and Iris's) is probably hanging out in the office either playing, drawing or glued to some sort of hand-held devise.
Tell us about the current collection , style influences?
The new collection continues our language and theme of minimalism inspired by a very clean geometric/ graphic world. The geometric print is inspired exactly from that. Of course we have kept our ongoing color palette of black grey and white which is always dotted with some color. This season we've introduced neon pink, neon yellow and olive.
NUNUNU SS16 Collection launching globally on 07 March 2016.
NUNUNU launches their highly anticipated collection is Australia this evening.
Join the NUNUNU tribe by visiting their Australian stockists Mr Wolf KIds, Infancy, Hipkin, Salty (Avalon), Eye For Kids, Buckets and Spade.