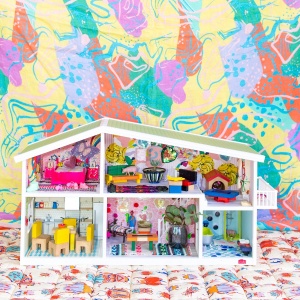 Create
Petite Collaborations by Kip & Co
Supported by
Lundby Australia
Photographer
Little Light Studios
KIP & CO
Create
Petite Collaborations by Kip & Co
Kate Kippy, Hayley Pannekoecke and Alex van der Sluys are the creative force and trio who make up Kip & Co. Not only have they revolutionised the bedding industry to reflect bold, individual print and pattern but their growing collection of bedding, homewear and lifestyle range means that you can always have a little bit of playful Kip & co in your life.
Enamoured by Kip & Co's kids and tiny collections (yes, I mean swaddles, playmats and bedding) we were drawn to the carefree nature of their design aesthetic and as such we just HAD to ask the Kip & Co team to jump on-board. What they have created with their Lundby dollhouse is all kinds of wonderful.
Take a look around the Kip & Co house, our final house in the Petite Collaborations project and be inspired. Be sure to see the bottom of this post for all of the Auction details.
What was the inspiration behind the house?
We used our prints, favourite colours (pink and peach of course) and special sequin/beaded treasures that we have collected on our Indian travels to help get our decorating hat on.
Did any other creative collaborate/contribute to the house?
Just us plus some of India's finest sequin craft possums. And paint from our pals over at Haymes.
What is your favourite room in your house?
The bedroom of course! We just wish we could snuggle up and try on all those amazing shoes. Get the shrink ray out – please!!! Now!!!
What are you working on in 2016?
We are releasing a range of life size doll houses for us all to move in to (in our dreams) Plus travel bags (out March) and we do have one of our most exciting collaborations in the pipe works which will be out in October so stay tuned.
The Kip & Co house concludes our Petite Collaborations series. We are so grateful to the artists Beci Orpin, Lucy Feagins, The Design Files, Jessica Hanson, Madeleine Sargent and of course Kip & Co who have generously donated their time and to our photographers Amelia Stanwix and Little Light Studios for capturing these beautiful spaces. We feel blessed to have the opportunity to dream up such a project and bring it to life. Thank you Lundy Australia for agreeing to assist us and donating the Smaland dollhouses for the project.
Now for the fun part.  You can take home one these incredible works or art whilst also supporting a wonderful cause, Koala kids. Simply visit the Auction site to place a bid. Auction is open to Australian and New Zealand residents only.
Keep your eyes peeled on a wonderful Instagram competition we will announce on Friday 26th February, our way of saying thank you for embracing this project.
Let your imagination run wild, for National Lundby stockists please see here