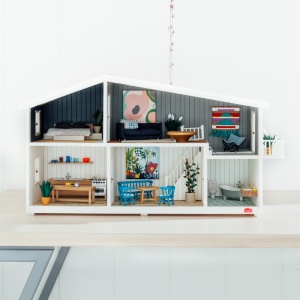 Create
Petite Collaborations Lucy Feagins, TDF
Supported by
Lundby Australia
Photographer
Amelia Stanwix
The Design Files
Create
Petite Collaborations Lucy Feagins, TDF
Lucy Feagins is an advocate for Australian design, as Editor of Australia's most successful design blog The Design Files she has been responsible for helping to propel brands within the design and interiors arena on her daily blog.
It is for this reason that when selecting the creatives we wanted to invite to participate in our petite collaborations project that Lucy was on our wish list. Thankfully Lucy agreed to participate and what she has created, with the help of some of Australia's leading artists will make your heart skip.
We introduce you to the Petite Collaborations Lundby Dollhouse created by Lucy Feagins and share with you her inspiration behind the house.
What was the inspiration behind the house?
Well, I'm not a designer or artist myself. I always feel The Design Files' greatest strength is curating and showcasing the creative talents of others. So, it made sense to use the dolls house project as a mini-showcase for some of our favourite Australian artists and creatives. We invited a handful of artists and designers to create original artworks and products to include. It was heaps of fun!
Tell us who collaborated and contributed to the house?
The house has original artwork by Melbourne painters Elizabeth Barnett and Kirra Jamison bedlinen by Melbourne label Mr Draper, paper plants by Sydney's famous paper engineer Benja Harney, and an original mini wall hanging by Brisbane based weaver Rose Jensen aka Yes Vincent.
Other elements were made by me, inspired by some favourite local designers – like the mini Bonnie & Neil inspired cushion on the couch, and the hand embroidered rug inspired by the Kulchi's Moroccan Beni Ouarian rugs.
A special shout-out also goes to my long-suffering husband Gordon, who made all kinds of bits and pieces, like the kitchen bench and table, bathroom vanity, bed… as well as a mini butterfly chair! There is nothing he can't do (and no task too ridiculous to drag him into!).
What is your favourite room in your house? 
I love the dining room – Elizabeth Barnett's original painting looks so lovely on the white paneled walls, and is perfectly complemented by Benja Harney's amazing paper plants!
What are you working on in 2016?
Well, 2016 is off to a great start, since my partner and I have recently had our first child, Minnie! SO that's been amazing and challenging and rewarding, and we're only 6 weeks in!
On a business level, I think it's high time The Design Files had its very own retail presence… I have some ideas brewing… watch this space!
Lucy's house, along with all of the other houses will go to Auction on Thursday 25th of February so please do check back in – we would love your support.
Check back in tomorrow as we launch the house of Madeleine Sargent of Made by Mosey and get a glimpse of her latest release wall hangings. 
We thank Lundby Australia for helping make this project possible. Since 1947, Lundby has been providing the most contemporary doll's house to each generation. Lundby pioneered the doll's house's child-safe electrical lighting system which can be found in every Lundby house. With two ranges to choose from Lundby continues to keep up with the times. They know the urge to play lies in the minute detail and freedom to create individual worlds. Australian retailers can be found here