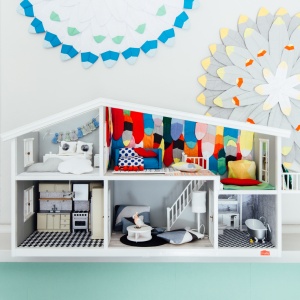 Create
Petite Collaborations by Madeleine Sargent
Supported by
Lundby Australia
Photographer
Amelia Stanwix
Made by Mosey
Create
Petite Collaborations by Madeleine Sargent
If you have visited the blog prior to this weeks Petite Collaboration project you will know that we are BIG fans of local creative Madeleine Sargent of Made by Mosey. Read our interview with Madeleine here.
Each of her collections are handcrafted, unique and intricate and we knew her interpretation of the Lundby dollhouse would be a superb fusion of handcrafted goodness and contemporary details. We love that the feathers she is often known for make an appearance in the living space which is bold, full of colour, shape and pattern.
We are over the moon to have Madeleine lend her craft to this project and join our creative series, we know her creation will be highly coveted when the Auction goes live this Thursday 25th of February.
Take a closer look at Madeleine's creation and read about what has inspired her house.
What was the inspiration behind the house?
I started off trying to replicate life-sized furnishings in tiny form until I realised it just wasn't working for me so I decided to work with the furniture I was given. This gave me the freedom to really let my mind wander which resulted in one room (the upstairs living area) being really conceptual, loose, graphic and colourful and then  I liked the idea of using various shades of grey for the rest of the house as a calming contrast.
Did any other creative collaborate/contribute to the house? 
My daughter Coco was integral in the whole process. Every day after school she would visit the studio and check on the progress, advising me along the way – 'pull back on the cushions Mum! More feathers Mum!' She has a very creative eye and I loved having her input. She's also the 'artist' behind the black and white patterned floor mat underneath the sofa in the main room.
What is your favourite room in your house?
I love the bedroom a lot, especially the little tassel garland and the linen quilted bedspread I made, however I had the most fun putting the living room together.
What are you working on in 2016?
I've gone back to full-time study so my Mosey shop will be updated from time to time with limited edition collections, basically pieces that take longer to produce, are more complex and are ones that I can really sink my teeth into.
You will also spot Madeleine's 'Full Circle' wall hanging above her dollhouse, a new collection which launched yesterday. Each piece is comprised of 70 fabric feathers in various sizes that incoporate literally hundreds of tiny stitches (not to mention hours of work!) incorporated in each one-of-a-kind textile wall hanging.
Madeleine's house, along with all of the other houses will go to Auction on Thursday 25th of February so please do check back in – we would love your support.
The final house in this inaugural series, the house of Kip & Co . Expect a burst of colour and a juxtaposition of print and pattern. 
We thank Lundby Australia for helping make this project possible. Since 1947, Lundby has been providing the most contemporary doll's house to each generation. Lundby pioneered the doll's house's child-safe electrical lighting system which can be found in every Lundby house. With two ranges to choose from Lundby continues to keep up with the times. They know the urge to play lies in the minute detail and freedom to create individual worlds. Australian retailers can be found here