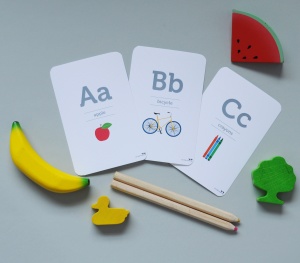 Read
Two Little Ducklings
My daughter Amelia is at that age where she is starting to talk (ok, call it babble more than speaking) and responds to shapes, colours, objects  -it's amazing to watch. As a first time parent I am constantly blown away by the quality and beauty of the brands that surround us and thus as we embark on this exciting journey of learning (and play) I am all for tools that are fun, playful, interesting and heck why not – beautifully designed.
I stumbled across the Two Little Ducklings range of educational children's products (and the most insanely cute flamingo and watermelon wrapping paper!) and I was instantly sold. It's colourful and illustrative aesthetic was what appealed and like so many of the wonderful inspiring brands I stumble across at the helm is one serious all round nice person.
The Two Little Ducklings range includes greeting cards, birth announcements, gift tags, gift wrap, prints, calendars and custom name charts. Whilst Jacinta Weir looks to design for a wide audience and include something for everyone, one thing remains, it is a beautiful edit of products with just the right balance of colour, playfulness and fun.
How did Two Little Ducklings come to be?
Two Little Ducklings started while I was on maternity leave, I was looking to go back part time to my previous job, unfortunately my bosses felt I needed to be there full time (I was Studio Manger and Senior Designer), so I resigned and decided to start my own business. I had always designed cards for friends for their birthdays and new babies and designed my own Christmas cards every year, so I started with a small selection of cards.
The name Two Little Ducklings comes from Lexi (my daughter's birth date), she was born on 22 January, so I used the bingo call for 22 (two little ducklings 22), I figured the business wouldn't have started without her so why not name it with her in mind.
Who makes up Two Little Ducklings team? Management, number of staff?
Two Little Ducklings is all me, myself and I, from designing the range, to sending out invoices and parcels, to approaching and dealing with stockists. I design, create and run the business wholeheartedly. My husband Ashley, does handle all my accounting and calls himself my Chief Financial Officer.
What is your career background?
I studied my Bachelor of Visual Communication (Graphic Design) at the University of South Australia completing with first class honours. Although I loved studying in Adelaide, I always wanted to move back to my home state of Victoria, so shortly after finishing I packed up my folio and approached several design studios, I was lucky enough to find employment straight away and stayed with the firm right up until I had my daughter, I started as Junior Designer and left as Studio Manger and Senior Designer.
What inspires you creatively and personally?
It sounds so clichéd, but my little girl very much inspires me both creatively and personally. After my daughters first Christmas she was given several educational books, but they were all awful to look at and heavily American based, so I had the idea of designing a range with her in mind, that would teach her, but also be nice to look at and communicate clearly and easily, so she would be engaged and want to learn. I also developed my custom name charts, with her in mind, a way I could teach Lexi to learn her name as she grows. As a little girl I could always be found drawing, my parents always say that they could see me doing something creative when I got older.
What is the best thing about being your own boss with children?
I've only been my own boss since having Lexi, I honestly couldn't imagine it any other way, I love that I can be here for her and see all of her big and small moments. I also love that I can work from the comfort of my own home, I love that I don't have to get up and get ready for work, I can just bounce from my bed to my office (the couch/kitchen table) and get straight into it.
How do you balance (juggle) family time and work time? Who is your 'village?
Gosh the balancing act is hard, and it is a constant struggle, can anyone say mummy guilt. Unfortunately we don't have any extended family close (my husband and I are from country Victoria), so we rely on each other heavily. Luckily my husband also has his own business (Personal Training Studio in Hawthorn) and when Lexi came into the world, he changed his hours around so he could spend more time with her, we try and give each other time to do business things while the other entertains Lexi. When I have big markets such as Finders Keepers, my parents always drop everything and come down and help, my mum is very inspirational, she has such a great work ethic, she breezes in and looks after Lexi and helps me put stock together.
How are your days structure around your children and family and the shop?
We have Lexi in daycare now two days a week, so I try and concentrate on my design work on these days, so that I can sit and concentrate at the task at hand, and I can speak with clients and stockists easily. On other days my husband and I split our time so we can both get things done. Lexi is often coming to suppliers with me and to our daily outing to the post office. Lexi has her favourite things to do at each of my suppliers, she loves dusting at my frame supplier, she draws at my paper stockist and she loves playing and talking with my printer. I do a lot of work after 8pm when she is in bed.
What exciting things are coming up for Two Little Ducklings?
I have a new range of flash cards with a matching poster that will be available very soon, I am also currently working on my Christmas cards and tags for later in the year, Christmas will be here before we know it. I'm very excited to be delivering to a new card stockist later this week Amarillo + in McKinnon.
What is your favourite item from the current range?
One of my favourites at the moment is my Tutti Fruity 2015 calendar, so fresh, bold  and full of juicy goodness for every month.
Best piece of advise you have been given
professionally – work hard at doing what you love, don't give up on your dreams
in reference to raising a family – listen to everyone, but only take on board what is important to you.
in reference to how to make it all work – do your best, it's all you can do
What are your goals for Two Little Ducklings in 2014, 2015 and beyond.
My main aim is to grow my business and get into more bricks and mortar stores. I have Finders Keepers Market in October to prepare for. I would love showcase at Life Instyle next year.
Jacinta's Petite Edit
Best place for Sunday breakfast?
We love Sunday breakfast, pre-Lexi we would always go out and try different places, now we often stay at home, my husband is definitely breakfast chef in our house, he mostly cooks up some yummy chorizo, haloumi and sunny side up eggs, delicious!
Best place for a family getaway?
We love exploring new places, and don't usually go back somewhere twice, we definitely love going to hot locations, I am not a fan of the cold. We travelled to Bali with Lexi last year and absolutely loved it, earlier this year we went up to Noosa, which we loved just as much.
What is your go-to resource?
Definitely Pintrest and Instagram for quick sources of inspiration, but I can't go past my design books when working on new identities for clients.
Favourite Children's fashion range
Definitely KaPow Kids, I just love their bright fun range, for something classy and girly Sophie and the Lion; and lastly Little Noggi make the best hats going around, they are so beautiful and exceptionally made.
Give a shout out to another inspiring business (ran by parents)
There are so many, it really is hard to narrow it down. I am very inspired by Nat from Milka Interiors, she has exceptional taste for children's interiors, I also find it hard to go past Jayde from Little Paper Lane, I love that I have never met this lady, but her posts are always so genuine and nice and I love that she shares so much of her life, seriously inspirational.
Shop the Two Little Ducklings range or speak to Jacinta about a custom design.