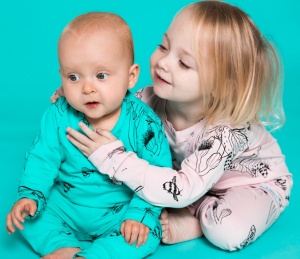 Shop
g.nancy
WHO
Georgie Holmes
CHILD
Ivy 11.5 months
Photographer
Jacqui Turk
Art Direction
Georgie Holmes
G.NANCY
Shop
g.nancy
g.nancy  is a charming Australian designed and manufactured sleepwear range for little ones aged 3 months – 9months. The trademark stars print collection, a whimsical, calm and delicate print is complemented each season with a new print adding a playfulness to this organic cotton collection.
g.nancy started out like most creative businesses. Fueled by a hunger for creative control and focus on the smaller details, Georgia Nancy Nicholson as she put it 'started small…so small'. She produced around 200 sets a season, she hit the pavement and walked around to stores showing them her collection 'begging them to put my product in their stores on SOR (sale or return). Things grew slowly and organically'.
Today g.nancy celebrates the launch of 'Come Fly With Me' and we spent a few moments getting to know g.nancy and the Sydney-based kiwi designer Georgia Nancy Nicholson.
Who makes up the g.nancy team?
Behind g.nancy it's me, my husband Oli who illustrates and Sascha who is with me part time and does a little bit of everything! Outside of that our manufactures, printers, dyers, pressers and post guys feel like a big part of our team.
What are your career backgrounds?
My degree was in design and I have a background in mens tailoring. My first job out of university was based in Melbourne with an Australian menswear brand but it killed my creative spirit in less than two weeks so I halved my salary and started working for a small children's fashion house as a design assistant! I 'moonlighted' as a nanny to make ends meet before I started g.nancy. Oli's background is as a Senior Biology Teacher and long time illustration freelancer. Sascha's background is art direction on a number of Australian publications.
 What inspires you creatively and personally?
I love colour. It's where every collection starts for me.
How are your days structured around your children, family and running a business?How do you balance (juggle) family time and work time? Who is your 'village? 
Our village at the moment is just my lovely husband and I – we do have a beautiful supportive family but sadly they don't live nearby!
Both my work and Oli's work is flexible so we juggle where we can. Factory drop offs and pick ups, meetings etc revolve around nap times. I have one full day a week solely in the studio while Oli has Ivy and other than that its naps and nights. Ivy is with us always, we haven't delved into the world of childcare yet!
Tell us about the 'Come Fly With Me' collection?
Summer in Australia is all about the noise of nature we are surrounded by everyday. To speak to that 'Come Fly With Me' is a celebration of the busy, buzzing and captivating life of a bug! The debut colours this season are Palm Spring inspired Teal and Limoncello alongside  our best sellers Rose and White.
Why sleepwear?
I spent so much of my childhood in my PJs, having grown up in the country where baths were taken at four in the afternoon we were rarely out of out them. I felt sleepwear deserved more attention, care and love than the market was offering. And that's how G.NANCY was born!
What are your goals for g.nancy brand in 2016 and beyond?
My goal is 'simply' to get our PJs under every kids pillowcase around the world. .. That doesn't sound like too much right?!
Georgie's Petite Edit
Best place for Sunday breakfast? 
Our best is walking to our local for tea and almond croissants and eating them in the park on the swing.
Best place for a family getaway?
It has to be New Zealand so that we can see our much loved and much missed family.
What is your go-to resource?
Children's picture books, we are currently loving 'The Underwater Fancy Dress Parade'
Favourite children's brands
We love Mabo Kids, Print Bebe, Fictional Objects (for linen), Little Scout Co, Millesime Baby for Knits and Fabrik.
View the g.nancy 'Come Fly With Me Collection' here