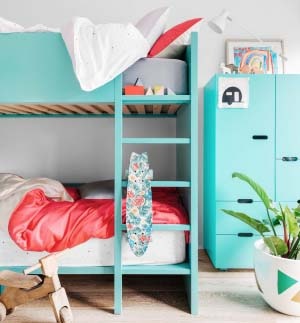 Shop
Siesta by Hunting For George
WHO
Jo Harris
Lucy Glade-Wright
CHILDREN
Georgia 6
Oliver 3
Hunting For George
Shop
Siesta by Hunting For George
I really admire brands and people that pour their heart and soul into their work yet and juggle family life which is why sharing this interview and SHOP post is so satisfying. You will, I am sure have seen some of Hunting For George's most coveted items – think the 'Oh the places you'll go' print and the Lola Clock, ring a bell? Tonight, we are thrilled to share with you their latest bed linen range, Siesta (their second collection) and celebrate the launch of singles range.
Sisters Lucy Glade-Wright and Jo Harris launched the business in 2010 with little hesitation and with a lot of passion, energy and good spirit the brand has evolved and is recognised as one of Australia's leading online retailers. Investing heavily in customer service, product development, photography, social media and most importantly supporting and fostering emerging designers their edit of child friendly items and their new Siesta range will make any little and big person smile.
Tonight we salute the Hunting For George team and share with you our interview with one half of Hunting For George, Jo Harris about the new Siesta and singles range and how as a busy working mother she makes it work.
How did Hunting For George come to be?
Hunting for George was born out of a desire to do something different. Lucy and I just decided one day to start a shop and the next day the planning began. We didn't ever question it, we just knew it was what we wanted so we rolled up our sleeves and got started.
How did the idea to design bed linen evolve?
The idea to create our own products happened quite naturally after a couple of years in business. We started out by creating our own range of prints and because of their popularity it gave us more confidence to create a wider product range. We absolutely love bed linen and we could see a few gaps in the market, so we just went for it. It was quite a big risk for us but one that we are incredibly happy we took.
Tell us a little about Siesta and the singles range.
The Siesta collection is a very relaxed range. The colour palette is soft and calming and the graphic patterns are subtle. We really wanted to create a peaceful collection for summer and one that our customers could love for a very long time. We are so excited about including singles to the collection! Our designs for singles are no different to the adult collection. We wanted to focus on creating inclusive designs that will be loved by both big and little people, but most importantly make all the mums happy!
What is your career background before Hunting For George?
I technically still am a nurse at The Alfred hospital in Melbourne. I do still enjoy working there occasionally…in my spare time!
What inspires you creatively and personally?
I draw a lot of inspiration from my peers. I love talking to people, especially small business owners. It's great to share stories with those with similar lives. It helps to share information and build good relationships with people that you admire and trust.
What has been the best thing about being your own boss both before and after children?
We started Hunting for George after I had Georgia so I have only ever known life as a business owner post kids. Glutton for punishment! It has allowed me the flexibility for school activities as I can work outside of normal work hours to make up for it.
How do you balance (juggle) family time and work time? Who is your 'village? i.e grandparents, friends, nanny?
I do have very supportive family and luckily enough to have a great, local childcare centre that Olly loves to attend, which certainly eases 'mother's guilt'.
How are your days structured around your children and family and HFG?
Up early to start the military operation of getting out of the house to drop kids and arrive at work at a respectable time. I do tend to get back onto the computer of an evening after kids are asleep. There are a lot of business owners/parents who actually respond to my emails at crazy hours.
Your children feature in the Siesta video, how was it 'working you're your children'?
I think it helped that I went into it imagining the worst and I was actually pleasantly surprised. Bribery of a trip to Big W did help though.
Best piece of advise you have been given
professionally – Better to under promise and over deliver.
in reference to raising a family – That there is no shame in telling your family you need time out from them all in order to be a happy mum!
in reference to how to make it all work – I'm still trying to work this out, but I am aiming for balance!
What are your goals for Hunting For George in 2014, 2015 and beyond
To grow our amazing team and together take Hunting for George to a wider audience. We hope that Hunting for George will become recognised not only as a great online store, but also an inspiring collective of creative talent.  
Jo's Petite Edit
Best place for Sunday breakfast?
The Stables of Como is perfect for breakfast with the kids. There is plenty of space in the gardens for exploring and nothing like a little bribery of visiting the chooks after breaky!
Best place for a family getaway?
Close to home we love to visit my parents in law at Point Lonsdale. This is a treat more for me thanks to not having to cook and having babysitters on tap. For a splurge, a trip to Hawaii with close friends is my favourite family getaway.
What is your go-to resource?    
As I spend a lot of time on the computer for work, I enjoy looking for inspiration from magazines, with a glass of wine in hand. I often buy European magazines of which I have no idea about the stories, but love looking at the imagery and design.
Favourite children's fashion range?
I can't go past Cotton On Kids and Country road. Such beautiful colours and designs, some of which I wished they came in adults sizes!
Give a shout out to another inspiring business (ran by parents)
I have a lot of respect for a number of our brands that are run by parents. It never ceases to amaze me how they juggle it all and produce such amazing products – Adam Jelic from MiGoals, both Kate's from Kate & Kate, Lily & Lucy form Peaches & Keen and Poppy from Pop & Scott to name a few.
Siesta  by Hunting For George  is a unisex and ageless collection so children and kids alike will love hoping into bed. made from 100% pure cotton, the collection is quality tested, chemical free, available in all sizes and designed specifically with you in mind. Shop the Siesta range.