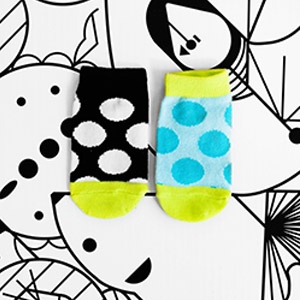 Wear
Hello Toes
CHILDREN
Otis 4 Years
Pearl 18 months
Hello Toes
Wear
Hello Toes
I mean seriously, can you think of anything cuter than tiny little feet in super colourful graphic print socks jumping around? Contrasting colours, polka dots in super soft cotton and playful and cute branding. Socks that are designed to be worn every-day and not only on special outings. Not character socks, not the ones with frilly lace or cartoon character prints but the ones you secretly wish came in adult sizes?  Ah, yes I hear you say, well let me introduce to you Hello Toes.
After the birth of her first child Otis,  Daniela struggled to find socks for him that weren't 'boy-blue' or covered with cars or dinosaurs and wondered why there were no fun, uni-sex styles on the market.  Necessity was the mother of invention, as they aptly say and Daniela set out to design her first range which she delivered – personally – into stores a week before she delivered her second child!
Daniela's skills in marketing and product development have well equipped her to handle the demands of this growing new business. She spent her earlier career working in fast paced environments at Mecca Cosmetica, Havaianas and Paul Frank, as well as working at Monster Children Magazine.
Daniela's home and office oozes style and colour and it is clear where her inspiration comes from.
What inspires you creatively and personally?
I am lucky that my dearest friends are all very creative and talented, so they inspire me every day.  I also find inspiration from children's book illustrations, and my huge collection of magazines and toys from when I was young.  Every single one of my Strawberry Shortcake dolls still has its socks and tights… it must have been a sign!
Are the children part of the creative process, do they help choose the colours for the range?
There is no greater career highlight than when your 3 year old says "I really like your socks mum!".  The kids definitely play a role as I am starting to trust my instincts and design just for them, not for what I think might be the popular option.  When designing the current range orange was Otis' favourite colour (for a couple of weeks!) so it was included.  His best friend loves yellow, so that was added.  It was also designed when my daughter Pearl was a newborn so I had to think for the first time about what I want a little girl to wear.  I am looking forward to making the most of their feedback as they get older, and more opinionated (no doubt).
What has been the best thing about being your own boss?
I am able to grow the business at a rate that suits me and my young family.  My ultimate goal is to have a business that will enable me to be at the school gate each day, and being my own boss feels like the way I will be able to make this happen.  I also try not to be too hard on myself – I want to like working for me!
How do you balance (juggle) family time and work time?
It is a constant juggle, one which seems to involve many balls!  My daughter Pearl is still very young and with me every day, so work must fit in at nap times or after 7pm lights out.  I am extremely lucky the kids have a doting grandfather (pictured below) who comes once a week to play with them so I try to fit as much work in on that day as possible! I have not quite figured out how to super-mum multi-task while the kids are with me and would much rather focus on each thing separately and with total devotion, than both with only half of my attention on each.  It is not easy to shift gears into work mode between mum-duties, so I am lucky that I enjoy what I do.
What exciting things are coming up for Hello Toes?
Hello Toes will be shown for the second year at Kids Instyle in Melbourne, as well as at a few design markets.  I am working on collaboration designs with some wonderfully creative people for the next range which is also very exciting!  It is great seeing what these talented parents from other design fields would like to see their children wearing.
Best piece of advise you have been given about trying to make it all work (career and family life).
Embrace the chaos and to not be too hard on yourself.  It takes a village, so don't be afraid to ask for help.
Daniela's Petite Edit.
Best spot for Sunday breakfast?
Twenty & Six in North Melbourne is fantastic with not only great food but really lovely staff.  With two munchkins in tow we tend to stick local, having jammy croissants and cronuts from The Sourdough Kitchen in Seddon or Milo milkshakes from Candied Bakery in Spotswood.
Best place for a family getaway?  
My in-laws beach house in Fairhaven is a favourite, as is Byron Bay.  Sandy feet and salty hair either way.  
What is your go-to resource?
Instagram, my collection of art and design books, and all of the magazines and toys I have hoarded from my youth.
Give a shout out to another inspiring business (ran by parents).
Home-Work is the newest venture from two of the Harvest Textile girls, who design brilliant home-life-essentials that are all printed and manufactured locally.
Radical Yes! are super stylish shoes designed by Melbourne mum (complete with a 3 month old) Kerryn Moscicki.  She has managed to create the perfect 'fashion-active' range that looks AND feels great.
Clare Cousins one of the most visionary architects in Australia, confirmed when voted the National Emerging Architect Prize for 2013.  She also happens to be my sister in law.